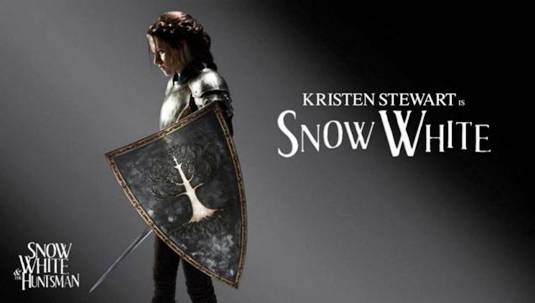 Here's a brand new Russian movie trailer for the upcoming fantasy adventure film
Snow White and the Huntsman
. Revolving around twisted takes on classic fairy tale the script written by Evan Daugherty talks about the Huntsman, Eric (
Chris Hemsworth
) ordered to take Snow White (
Kristen Stewart
) into the woods to be killed winds up becoming her protector and mentor in a quest to conquer the Evil Queen, Ravenna (
Charlize Theron
). Snow White, of course, starts a rebellion with the aid of seven dwarfs. Furthermore,
Sam Claflin
will star opposite Stewart as the Handsome Prince, William who has been in love with Snow White for many years. Director
Rupert Sanders
said of the film:
It's not a little girl sitting by a well with tweety birds telling her what's going on.
Kristen added:
I wasn't initially jumping at the chance [to play Snow White] but she is one of the most heavy-handedly sincere, seriously doesn't let her heart cloud her mind characters. Also, I get to have a sword and stuff.
Snow White and the Huntsman comes to theaters June 1st, 2012 and also stars
Ian McShane, Bob Hoskins, Toby Jones, Nick Frost, Eddie Marsan
as well as Christopher Obi in the role of Magic Mirror, and will have to compete with another film based on the popular fairytale set to be released in the near future – Tarsem Singh is also directing The Brothers Grimm: Snow White (Mirror, Mirror), a comedy fantasy film which will feature Lily Collins as Snow White and Julia Roberts as the Evil Queen and will first hit theaters on March 16th, 2012. What is your favorite? [youtube]http://www.youtube.com/watch?v=0cGq4WYy7x8[/youtube]
Snow White and the Huntsman – Longer Trailer