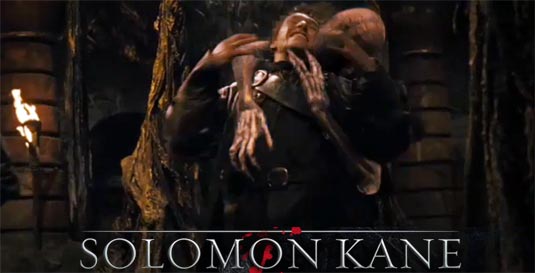 Check out the first clip for
Michael J. Bassett
's adaption of Robert E. Howard's "
Solomon Kane.
" Several grave-robbers find a brutal death in this clip, as a cursed barrow comes to life! Armed with a rapier and flintlock pistols, Solomon Kane (
James Purefoy
) dresses in black, his pale face and cold eyes shadowed by a hat. He is a true rogue, blasting and slashing forward on a mission of pillage and plunder in war-torn North Africa in the late 1500s. When the devil lays claim to his hopelessly corrupt soul, Kane escapes only to face the sobering truth: in order to seek redemption, he must renounce his wicked ways and devote himself wholly to a pious life. His newfound piety is put to the test when he is forced to return to his murderous ways to save England from the grasp of evil.
Michael J. Bassett
(Deathwatch, Wilderness) directs from his own script, with
Max von Sydow, Pete Postlethwaite, Rachel Hurd-Wood, Alice Krige
and
Mackenzie Crook
co-starring. No release date has been announced.
What do you think?