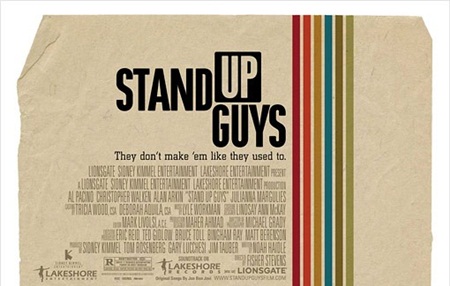 Tough but touching action comedy Stand Up Guys recently debuted its trailer which has been followed with some unseen stills and we've been keeping a very close eye on which very much looks like a Last Hoorah for the screen legends.
In all seriousness, there's nothing quite like the simple old school movie poster to get you excited about a movie.
Well, the new hit man comedy starring Christopher Walken, Al Pacino and Alan Arkin, three of the most recognizable vet thesp working today with Fisher Stevens (producer of The Cove) directing  from a script by Noah Haidle.
Lionsgate is giving Stand Up Guys a December awards-qualifying run, prior to hitting nationwide on January 11th, 2012.
Val (Pacino) has been freshly released from a long stint in prison. He took the fall for his associates, but is out and welcomed back by old pal Doc (Walken). They quickly hook back up with another friend, Hirsch (Arkin) and plan a wild night on the town.
Despite the apparent fun, a danger swirls because their former mob boss has ordered Doc to kill Val…
'They don't make 'em like they used to.'
Source: IMPA wards