Movie News
Star Trek Breaks Record For Trailer Downloads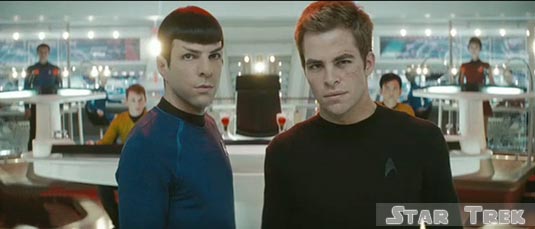 On March 6th,
Paramount Pictures
released the latest (third) trailer for the upcoming "
Star Trek
" film. In the first twenty-four hours after it was released, the newest Star Trek trailer has broken records with 1.8 million downloads. Trailer also breaks weekly download record with over 5  million downloads. From
J.J. Abrams
(Mission: Impossible III, Fringe, Lost and Alias), comes a new vision of the greatest adventure of all time, "Star Trek," featuring a young, new crew venturing boldly where no one has gone before. The film  starring John Cho, Ben Cross, Bruce Greenwood, Simon Pegg, Chris Pine, Zachary Quinto, Winona Ryder, Zoe Saldana, Karl Urban, Anton Yelchin, Eric Bana and Leonard Nimoy. "Star Trek" opens nationally on May 8, 2009.