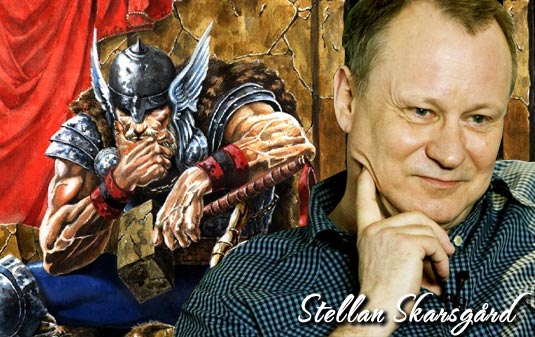 Stellan Skarsgård
will star in Marvel Studios' "
Thor
" according to the man himself through Swedish news site Ystads Allehanda. Stellan is not the only Skarsgård linked to this
Kenneth Branagh
's adaptation of the Marvel comic adaptation. In early 2009, his son
Alexander Skarsgard
was listed among the potential candidates to portray the titular character, Thor. However, the younger Skarsgard lost the role to
Chris Hemsworth
, the actor who portrays Captain Kirk's father in 2009's "Star Trek". Everything is still secret about the project and Skarsgård can not reveal what role he will play.
"They wanted me to sign without reading the script. That I refused to do. Then they sent one to me that was so coded that I could only print one copy,"
said Stellan Skarsgård to TT spectra. At the center of the story is The Mighty Thor, a powerful but arrogant warrior whose reckless actions reignite an ancient war. Thor is cast down to Earth and forced to live among humans as punishment. Once here, Thor learns what it takes to be a true hero when the most dangerous villain of his world sends the darkest forces of Asgard to invade Earth. In addition to Chris Hemsworth and Stellan Skarsgård (Good Will Hunting, Breaking the Waves, Pirates of the Caribbean: Dead Man's Chest), the film also stars
Tom Hiddleston, Natalie Portman, Jaimie Alexander, Colm Feore
and Samuel L. Jackson Production is set to start in 2010 and Paramount is eying a May 20, 2011 release for Thor.