Movie Posters
Stunning New IRON MAN 3 International Poster Spotted
Here's the new international poster for
Iron Man 3
, which has been spotted at local theaters. We must just agree that this is the coolest one yet and we are hoping for a high-res version to be released soon. The unique one-sheet features
Robert Downey Jr.
as Tony Stark – sans mask — with several of his armors flying in the background, floating on a piece of debris after his Malibu mansion has been destroyed. It seems to have first shown up on the
When You Were Here Before
Tumblr blog and given how this photo was snapped inside the movie theater case, it's almost certainly real. Directed by
Shane Black
, the Marvel Studios action adventure also stars G
wyneth Paltrow, Don Cheadle, Guy Pearce, Rebecca Hall, Stephanie Szostak, James Badge Dale, Jon Favreau, Ben Kingsley
and
Wang Xuequi
. The film is scheduled to open in 3D, 2D and IMAX theaters on May 3rd, 2013. Have a look!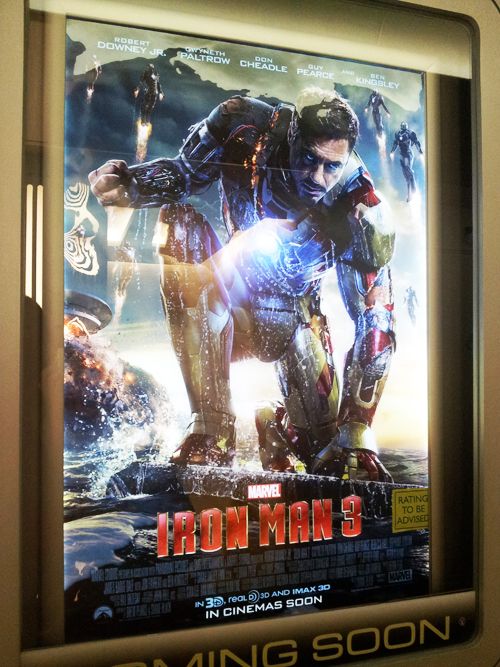 Iron Man 3 pits brash-but-brilliant industrialist Tony Stark/Iron Man against an enemy whose reach knows no bounds. When Stark finds his personal world destroyed at his enemy's hands, he embarks on a harrowing quest to find those responsible. This journey, at every turn, will test his mettle. With his back against the wall, Stark is left to survive by his own devices, relying on his ingenuity and instincts to protect those closest to him. As he fights his way back, Stark discovers the answer to the question that has secretly haunted him: does the man make the suit or does the suit make the man?