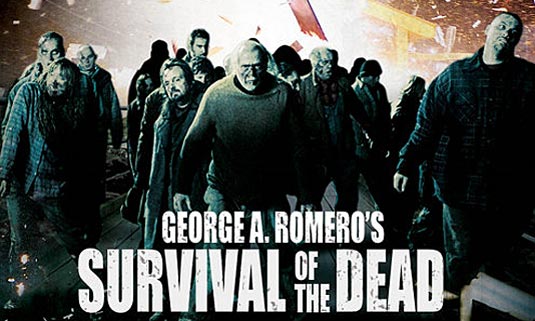 Magnet Releasing has sent over a new red band trailer and two posters from their upcoming horror movie
Survival of the Dead,
starring
Alan Van Sprang, Kenneth Welsh, Kathleen Munroe, Devon Bostick, Richard Fitzpatrick, Stefano Colacitti,
Julian Richings
and
Athena Karkanis
. Immediately following the events of
Diary of the Dead
,
Survival of the Dead
, is the 6th film from
George A. Romero
(The Crazies, Night of the Living Dead,  Dawn of the Dead), one of the most influential and respected horror auteurs of all time, to look at a world where humans are in the minority and the zombies rule. Off the coast of Delaware sits the cozy Plum Island where two families are locked in a struggle for power, as it has been for generations. The O'Flynn's, headed by patriarch Patrick O'Flynn (
Julian Richings
) approach the zombie plague with a shoot-to-kill attitude. The Muldoons, headed by Shamus Muldoon (
Richard Fitzpatrick
), feel that the zombies should be quarantined and kept 'alive,' in hopes that a solution will someday be found. The O'Flynn's, who are clearly outnumbered, are forced to exile Patrick by boat to the mainland, where he meets up with a cynical band of soldiers, headed by Nicotine' Crocket (
Alan Van Sprang
). They join forces and return to the island, to find that the zombie plague has fully gripped the divided community, and the body count is rising. As the battle between humans and zombies escalates, the master filmmaker continues to reinvent the modern horror genre with wicked humor and pointed social commentary.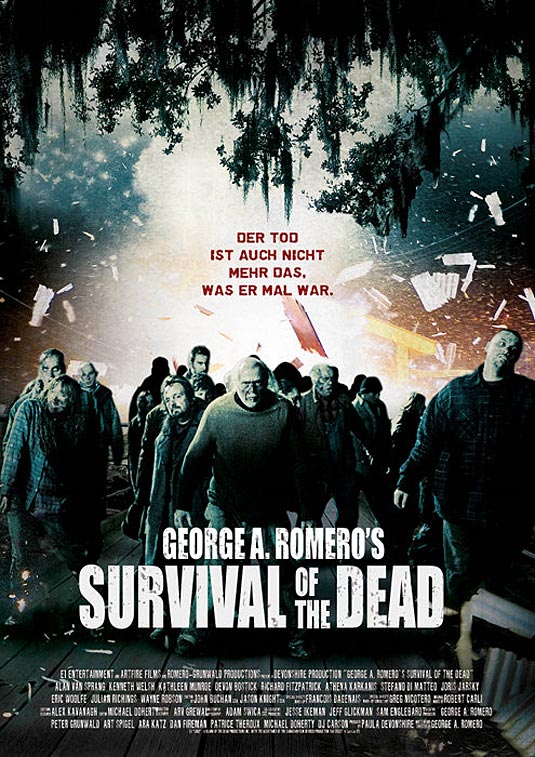 Survival of the Dead Poster
Survival of the Dead Poster
Survival of the Dead
is set for release on XBOX Live, Playstation and Amazon on April 30, with a theatrical debut set for May 28, in limited release.