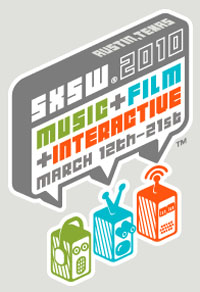 South by Southwest, or if you prefer SXSW, is a set of interactive film and music festivals and conferences that take place every spring in Austin, since 1987.
So, Spring has come, and now is the right time to give a little attention to this interesting project, so we're packing our things and we're on the road to SXSW festival!
It's very nice, and encouraging thing that guys at SXSW say this is the internationally acclaimed, nine-day Festival that celebrates "raw innovation and emerging talent, with a truly diverse program ranging from provocative documentaries to subversive Hollywood comedies."
Although the music events offerings get most of the attention, in the last decade the film component has emerged as a destination in its own right.
Just for a record, one of the movies that's been shown last March on SXSW was a little war movie named The Hurt Locker. You remember that one from last week, right?
That's why over 260 films will be screened this year, including high-profile world premieres like Kick-Ass and panels featuring the likes of Quentin Tarantino, Michel Gondry, Jeffrey Tambor and Robert Rodriguez.
While we're still here, giving you some basic information, let's say that Kick-Ass had a chance to open Festival night, and that was a nice move.
On the other hand, let us remind you that the SXSW panels and conversations are usually as worthwhile as the films, so as we mentioned it's certainly good thing to hear Tarantino and Rodriguez sharing secrets of genre filmmaking at the "Directing the Dead" panel.
Really, very interesting Alphabetical List of 2010 Accepted Films can be found on their official site, so you should definitely check it out.
One of the most interesting things about the whole project is the fact that there is no special press screenings, no celeb-only showings, you just buy a pass, and you get to see the movie you want like everybody else, no discrimination!
When it comes to documentaries Subjects include troubled NBA star Allen Iverson – No Crossover: Allen Iverson, cab drivers in Beijing – Beijing Taxi – the mercurial pop and world music star David Byrne – Ride, Rise Roar – Houston's storied Kashmere Stage Band Thunder Soul and plenty more that you should definetely watch if you're a documentary-fan.
We'll be here soon with more detailed informations, such as reviews from the movies that got our attention. As you see, everything is possible, and who knows, maybe we'll have a chance to see next-Oscar movie again right here for the first time!
The Road to SXSW 2010: Brian Solis
Part 1

[youtube]http://www.youtube.com/watch?v=ui71JMyNyiE[/youtube]
Part 2
[youtube]http://www.youtube.com/watch?v=o5qXQ65V548[/youtube]
Part 3
[youtube]http://www.youtube.com/watch?v=FUT6FvFVQFs[/youtube]