Movie Posters
TAKE A LOOK: International Poster For Sylvester Stallone's BULLET TO THE HEAD!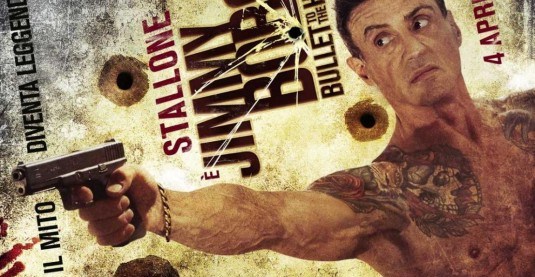 Well, this new international poster for Bullet To The Head definitely has a purpose – it will remind you not only that Sylvester Stallone stars in the whole thing, but that he's playing a tough do-not-mess-with-me guy named Jimmy Bobo! Cool stuff. I'm definitely interested in Walter Hill's upcoming movie, so thank God it opens soon. I mean, if February is soon, then I'm totally cool…
But, let's be honest, it's not all about Stallone this time! The rest of the movie cast looks quite interesting as well, and includes Sung Kang, Sarah Shahi, Christian Slater, Adewale Akinnuoye-Agbaje and Holt McCallany. The movie is based on Alexis Nolent's graphic novel, and director Hill directed it from Alessandro Camon's script which centers on a New Orleans hitman and a DC cop who form an alliance to bring down the killers of their respective partners. Bullet To The Head premiered this month at International Rome Film Festival, and Warner Bros. will release the movie on February 1st, 2013. So, anyone excited about this movie, or what?