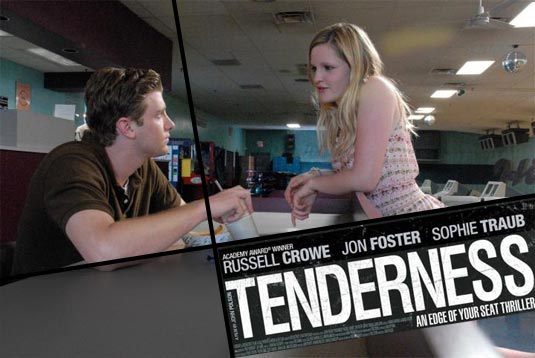 Here are poster, photos and trailer for the upcoming Russell Crowe film "Tenderness." Eric Poole (Jon Foster) is a charming, attractive high school student with devout, domineering parents. Following an angry outburst from his mother upon her discovery of his promiscuity, Eric maliciously and violently murders both his mother and father. Years later, Lori Cranston (Sophie Traub), an attractive and audacious young girl who has silently suffered years of sexual abuse from her mother's revolving door of boyfriends, becomes mesmerized by Eric's story. Undeterred by Eric's murderous impulses, Lori flees her mother's house to find him. However, while Lori is attracted to Eric's sinister mentality, Lt. Cristofuoro (Russell Crowe), the officer assigned to Eric's case, is not convinced he won't kill again. Cristofuoro goes after him, conflicted about his desire to help Eric – whom he knows has suffered tremendously – and, his knowledge of the latter's appetite for killing young women. While driving towards Syracuse to find a girl whom he met in juvenile detention, Eric is shocked to find Lori hiding in his trunk. Suspicious of Lori, annoyed by her juvenile crush and paranoid that she saw him murder his girlfriend years prior, Eric is outwardly harsh and cruel towards her. Throughout their long voyage together, Lori becomes increasingly enamored by Eric, despite his cruel behavior and a failed attempt to kill her. As Cristofuoro draws closer to the pair, Lori resigns to her fate. Yet, despite Eric's calculated plan to kill her, and her complete acquiescence, Eric is unable to do so. Although upset with himself for succumbing to "soft" emotions, he leaves to meet the girl from juvenile detention, unaware that she is working with the police to set him up. Lori learns about the trap and, after alerting Eric, she leaves with him, despite Cristofuoro's concern she will not come out alive.
Tenderness Movie Photo, Sophie Traub stars as Lori
Tenderness Movie Photo, Russell Crowe stars as Detective Cristofuoro
Tenderness Movie Poster "Tenderness" is directed by John Polson (Hide and Seek, Swimfan)  and you can catch it in theaters on December 11th, 2009 in limited release.