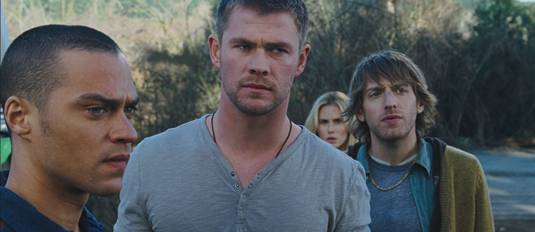 New clip from the Joss Whedon-scripted horror film The Cabin in the Woods is a great homage to old 'creepy local' routine we get in so many horror movies.
This time backwoods local, 'the harbinger,' who chews tobacco and is missing teeth, is making veiled warnings to a bunch of good-looking young people, but they still go to a remote cabin in the woods.
Produced by Whedon (The Avengers) and directed by Drew Goddard (Cloverfield) from a script by both, the film stars Kristen Connolly, Chris Hemsworth (who reprises his role as Thor in Whedon's The Avengers, too), Anna Hutchison, Fran Kranz, Jesse Williams, Richard Jenkins and Bradley Whitford.
I doubt very seriously you will be disappointed when it hits on Friday, April 13th, 2012.
Hit the jump to check out the spoiler-free clip from The Cabin in the Woods.
[youtube]http://www.youtube.com/watch?v=do25LMS-7pM[/youtube]
Source: Youtube