Movie News
The Day The Earth Stood Still … Who Will Be Saved?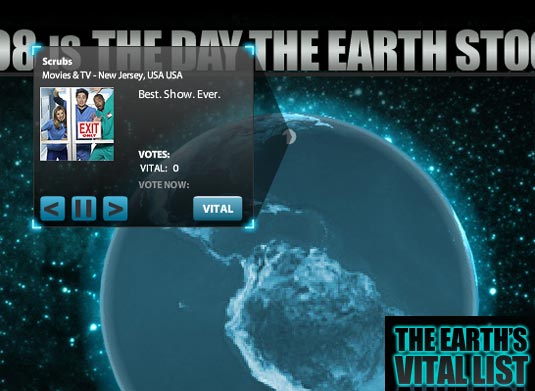 Twentieth Century Fox has teamed with Moxie Interactive, to create a new application that allows the world to decide who and what will be saved when the earth "stands still". It's part of a global participation campaign for Fox's upcoming movie, The Day The Earth Stood Still. The film stars Keanu Reeves and Jennifer Connelly in the ultimate alien invasion movie. The digital campaign utilizes seven of the world's top social networks – including MySpace, Facebook, Bebo and Netlog – across 10 languages.
In the film, a renowned scientist (Jennifer Connelly) finds herself face to face with an alien called Klaatu (Keanu Reeves), who has traveled across the universe to warn of an impending global crisis. She quickly discovers the deadly ramifications of Klaatu's claim that he is "a friend to the Earth". Now she must find a way to convince the entity who was sent to destroy us that mankind is worth saving – but it may be too late.
Earth's Vital List, which launches today, poses the question; if the earth was under attack what would you save? Consumers are asked to build a "Vital List" of 12 items (people, places or things) they would save on "the day the earth stands still". Vital lists can be shared with friends encouraging feedback and votes on which items are truly vital. The world's most vital items will be tabulated on a global microsite, at http://www.earthvitallist.com. The site also provides visitors with a view on how items are being ranked around the globe. A countdown to the film's US release (12/12/08) will coincide with a special reveal of the world's 1,212 most prized possessions on MySpace.com/earthvitallist.com.
"The campaign was designed to gain network participation and build, through word-of-mouth, awareness for the The Day The Earth Stood Still. This program will connect consumers with the movie by employing a creative application that naturally fosters conversations," stated Kris Zagoria, founder and chief executive officer at Moxie Interactive. "This is the first time that a digital campaign has ever leveraged an array of social networks, creating a truly interactive application of global proportions."
"The Earth's Vital list succeeds in offering the consumer an activity that is both fun and engaging. There are no limits to what types of items can be saved from extinction, so imagination and sharing is encouraged. I plan to put macaroni and cheese at the top of my list," said Hilary Hattenbach, Vice President, Domestic Digital Marketing at 20th Century Fox.

"We knew we had to build a ground-breaking campaign that would give movie fans around the Earth a way to connect with the film's themes," said Bettina Sherick, Vice President, International Digital Marketing at 20th Century Fox. "We're leveraging the most popular social networks around the world, with a question that resonates with all. I personally am interested in seeing what fans will decide is the Earth's Most Vital List."