Jonathan
and
Howard Ford
's South African zombie film
The Dead
is to begin distributing to cinemas starting with a US theatrical release that is currently scheduled for this summer. Global Cinema Distribution and Starz Anchor Bay have both acquired North American and UK theatrical rights to the Ford Brother's "The Dead" shuffling throughout cinemas with the US theatrical release in summer 2011. Anchor Bay Starz quickly gained all UK rights and will be releasing the film in cinemas in England by Halloween 2011. The film first premiered at Frightfest 2010 and was promoted with strong interest among buyers at 2010 Cannes market. Directing ads for world-renowned brands, Howard J. Ford and his brother Jon were able to put down some of their own money, for the low-budget "The Dead," a zombie road movie with a spiritual center that Ford calls "
The English Patient
meets
Dawn of the Dead
."
The story is set in the very near future where most of the world has yield to the virus of the living dead. After crashing off the coast of Africa,
Lt. Brian Murphy
fights for survival across the country in search of a way to get back to his family in the US. Saved by local soldier
Daniel Dembele
, who is also searching for his son, the two join up, all the while battling against the ever-present zombie threat. The film was shot on location by Ford and his bro Jon in Burkina Faso and Ghana the summer before last. The decision to shoot in West Africa came,
because we wanted to do something where no one had done it before."
said Howard and revealed:
We encountered real death on a daily basis and were also held up at gun point several times, encountered real cannibals, arrested, endured dysentery and the lead actor Rob Freeman very nearly died after contracting Malaria in the middle of filming."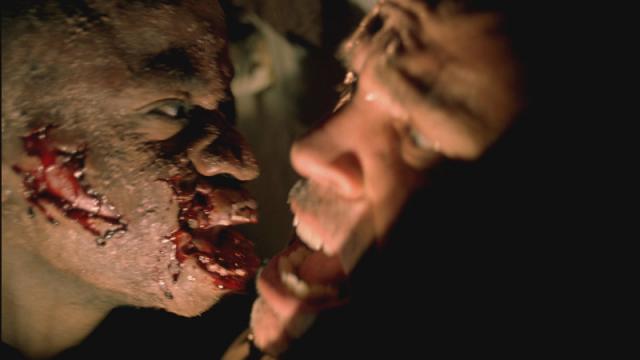 The Dead
stars
Rob Freeman
("Saving Private Ryan"), and African up and coming star
Prince David Osei
, making his US Theatrical debut. The film's producer, Amir Moallemi, was assured that the movie meets all the high-zombie standards: firstly a good story and a good makeup followed by good settings and of course slow moving zombie! Cop a look at the trailer below and experience a cool new zombie setting that promises to redefine our expressions of how limited (or unlimited) leagues of the undead can be onscreen.
The Dead Poster