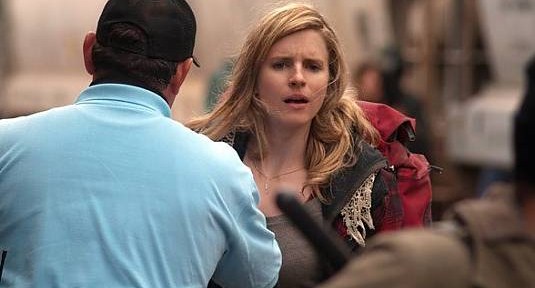 The East, remember that suspenseful and provocative espionage thriller? Sure you do, things are pretty clear with Zal Batmanglij's latest flick: spy on us – we'll spy on you! Anyway, the movie is set to hit limited theaters this month, so we're back to give you another look at Brit Marling, Ellen Page and Alexander Skarsgård and a brand new featurette from the whole thing. Check it out! Zal Batmanglij and Brit Marling stand behind the movie script which revolves around Marling's character – Sarah Moss, a former FBI agent and an operative for the private intelligence firm Hiller Brood who infiltrates an anarchist collective called The East and convinces its members of her genuine participation.
But, Sarah begins to fall in love with its charismatic leader Benji, played by Alexander Skarsgård, and she begins to question the moral underpinnings of her undercover duty.
The rest of The East cast includes Ellen Page, Toby Kebbell, Shiloh Fernandez and Patricia Clarkson, and as we mentioned above – the movie is set to open in limited theaters on May 31st, 2013.
Click on these images to take a better look & stay tuned for more updates!