The official US trailer for the Korean western flick The Good, The Bad, The Weird have been released by IFC Films. In the 1930s, the world is in chaos. In Northeast Asia, the Korean Peninsula has fallen into the hands of the Japanese Imperialists. Many Koreans have flocked to Manchuria, the vast terrain of horses and wilderness bordering their homeland and China. Some of them, inevitably, have turned into mounted bandits to earn their living in this barren wasteland. Tae-gu (The Weird) is a thief. He robs a train of Japanese military officers, but the incident is not as simple as it first seems. In the middle of this fierce gun battle against the Japanese, he obtains a mysterious map that leads to a treasure from the Qing Dynasty, buried somewhere in Manchuria.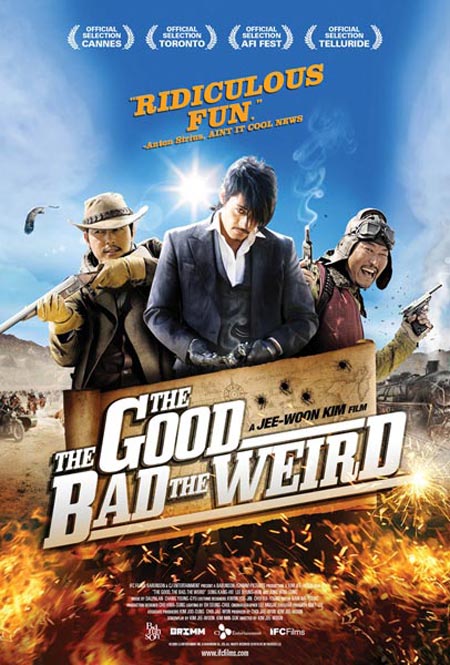 The Good, The Bad, The Weird Poster

Having survived the battle, Tae-gu thanks the man for saving his life. Yet, he does not know that this stranger is Do-won, the bounty hunter (The Good), who has been chasing Tae-gu to turn him in for a reward. These three men – Do-won (The Good), Chang-yi (The Bad) and Tae-gu (The Weird) – will soon discover that the map they are battling for is also a magnet that attracts others as diverse as the Korean resistance, Chinese/Russian/Korean mountain bandits and the Japanese army. The blazing gun battle in the train proves to be merely the beginning of the rollercoaster ride to the final showdown to come.
The film is directed by Jee-woon Kim (A Tale of Two Sisters, A Bittersweet Life). This first premiered at the Cannes Film Festival back in 2008 and it also played at many, many other film festivals worldwide. To date, it's still the most expensive Korean films ever made, with a production budget of 17 million. IFC has picked The Good, The Bad, The Weird up for release to limited theaters as well as VOD on April 23rd, before arriving on DVD.