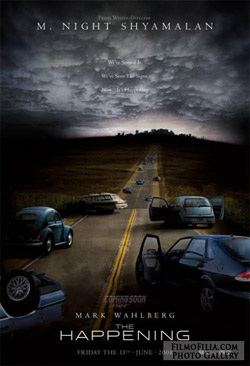 "The Happening" – In M Night Shyamalan's "The Happening" Mark Wahlberg plays a man who takes his family on the run when the world turns upside and a cataclysmic natural crisis threatens to end the world. As usual, with M Night Shyamalan films, details are scarce. You'll have to wait to see "The Happening" in an actual movie theater, Friday The 13th of June 2008 to find out exactly what it's all about.We all hope that "The Happening" will be better than Shyamalan's last film, 'Lady In The Water.' 20th Century Fox, also, is hoping that "The Happening" happens to be a monsterous hit at the box office. Warner Bros, who released Shyamalan's "Lady In The Water," threw him and his script for "The Happening" out to the curb.
Starring:
Mark Wahlberg, Zooey Deschanel, John Leguizamo, Spencer Breslin
Director:
M. Night Shyamalan
Studio:
20th Century Fox
Ratting:
PG-13 (For terrifying images, language)
'The Happening' opens to theaters on June 13th, 2008.