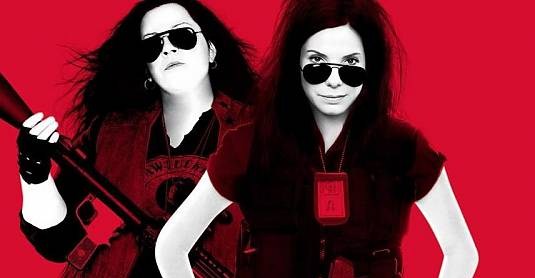 Don't mess with
Sandra Bullock
and
Melissa McCarthy
– says the latest poster for their upcoming comedy
The Heat
! We already shared some cool
clips
from
Paul Feig
's
latest flick, so I'm sure you know it follows the above mentioned ladies who join forces to bring down a ruthless drug lord. Will they become
best buddies
after all? That's a plan…
Bridesmaids
helmer Feig directed the whole thing from a script written by
Katie Dippold
, and beside Bullock and McCarthy,
The Heat
cast also includes
Demián Bichir
,
Marlon Wayans
and
Michael Rapaport
. Still, it's all about Bullock's character FBI Special Agent Sarah Ashburn, described as a methodical investigator with a reputation for excellence and
hyper-arrogance
. McCarthy, on the other hand, plays Detective Shannon Mullins, aka
foul-mouthed
lady who has a very short fuse. The rest of the story goes like this:
Neither has ever had a partner, or a friend for that matter. When these two wildly incompatible law officers join forces to bring down a ruthless drug lord, they become the last thing anyone expected: buddies.
Not so original story (guess we all agree?) but I think we should give them a try. Make sure you click on these posters to take a better look & stay tuned for more updates.
The Heat
arrives on June 28th, 2013.