Movie Trailers
Another TV Spot For THE HEAT, Starring Sandra Bullock & Melissa McCarthy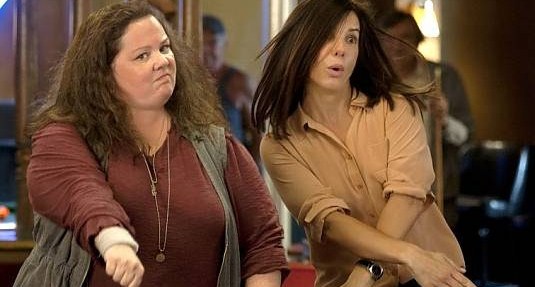 The fed. The fuzz.
The Heat
! Ready for this one? C'mon, give them a break, I think that
Sandra Bullock
and
Melissa McCarthy
look pretty cool in this one. Anyway, the movie is set to hit theaters this month, it comes from
Bridesmaids
helmer
Paul Feig
, so what could possibly go wrong? So, as we previously reported, Feig directed the movie from a script written by
Katie Dippold
, which revolves around FBI Special Agent Sarah Ashburn and Detective Shannon Mullins who team up to take down a Russian mobster.
Of course, there's more: Bullock's character Sarah is an uptight and arrogant methodical investigator, while McCarthy's Shannon is foul-mouthed and has a very short fuse.
What a combination!
Neither has ever had a partner, or a friend for that matter, but when these two wildly incompatible law officers join forces to bring down a ruthless drug lord, they become the last thing anyone expected:
buddies
. Beside Bullock and McCarthy,
The Heat
cast also includes
Demián Bichir
,
Marlon Wayans
and
Michael Rapaport
, and the movie is set to hit theaters on June 28th, 2013. Let us know what you think about this comedy, and stay tuned for even more updates!