Movie News
THE HOBBIT: THE DESOLATION OF SMAUG Behind-the-scenes Videos That Didn't Live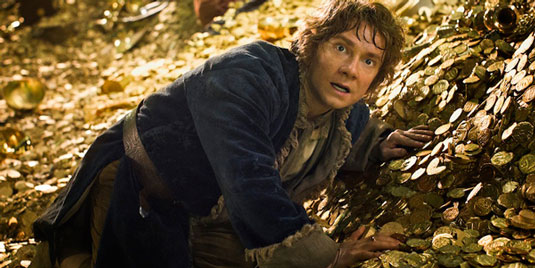 For a really short time, there was a video clip presenting the first footage from the second The Hobbit film, The Hobbit: The Desolation of Smaug, but the studio was dilligent in their desire to keep the fans on the tips of their toes (which is very rude, if you ask me). They went to the extent of removing behind-the-scenes videos as well, so we can only present you with some excerpts from CinemaBlend live blog, and if you were one of those who bought The Hobbit: An Unexpected Journey Blu-ray, we hope you used your Ultraviolet code to view the footage. Here are the excerpts, and for more go over to CinemaBlend site:
"3:03 The Unexpected Journey trailer is back! You're also encouraged to tweet your questions to Peter Jackson @TheHobbitMovie using the hashtag #AskPeterLive if you're so inclined. 3:05 "Far Over The Misty Mountains" is a damn fine song. Where was its Oscar nomination? 3:06 OK! Starting now with a behind-the-scenes tour from the actor who plays Nori in The Hobbit, introducing us to Peter Jackson. 3:07 Peter Jackson wants us to know that the future in New Zealand is amazing – it's already March 25 there! 3:08 Now we're embarking on a tour of their post-production offices, which includes the performance capture stag, where two actors in motion-capture suits are fighting each other. The guy in charge mentions something about "Azog and the Orcs" and then Peter Jackson cuts him off shouting "spoiler alert!" 3:11 Jackson stops by the desk of a guy who's working on a design for Smaug, and brings the camera in close to show us… a very cartoon dragon. Maybe from a Disney movie? Another guy at a computer is working on motion designs for Smaug that are blatantly a T-Rex with wings. Pranks! So many pranks. Though technically we are here to get a look at the movie… so does this mean they're still not going to show us the real Smaug? 3:17 Jackson is explaining how he plans for coverage of the scene, with multiple camera angles. We see several takes of the group in the boat, with Bilbo (Martin Freeman) standing up and saying he never should have left Bag End. "We have a saying in the Shire… we learn it from birth.., never venture East!" It is pretty remarkable to see how many different versions of the line Freeman offers. 3:19 There's a female voice offscreen responding "So tell me Master Hobbit…" could this be Evangeline Lilly's Tauriel? Is there another female character in the scene that I'm not remembering? 3:22 Now we see a more complete version of the scene, with multiple camera angles. "Goblins, trolls, wargs… none of that was in the contact," says Bilbo. And as it turns out that female voice was just an assistant on set – the "So tell us Mr. Hobbit" line belongs to Luke Evans, as Bard the Bowman. And now Evans is here with a message for us! 3:23 Evans, who appears to be recording the video from inside a trailer on a set somewhere, says he's looking forward to returning to the set in June and putting the costume back on. Presuming he's talking about reshoots? 3:25 Jackson says his question would be for Jed, and would be "Why the silly hairstyle?" Not about his dwarf wig, but his regular hair. And now it's finally time for video questions! Let's get the Q&A part of this started! 3:25 The answers will include some new footage from Desolation of Smaug. Exciting! 3:26 First question is about Smaug as a middle movie, like Two Towers. Jackson says it's less of a challenge because they split into multiple storylines and you can raise the stakes for the characters. Accompanied by some footage of Lee Pace as Thranduil the elf, and some behind-the-scenes looks at him in a scene with Orlando Bloom as Legolas. 3:28 And here's a look at Stephen Fry as The Master in Lake Town! He is wearing a serious wig and mustache. "Someone has to take over the mantle of Orlando Bloom as the most desirable figure to appear in a Tolkien adaptation" Fry says in the behind-the-scenes footage. 3:29 Fry also provided a video expressing his apologies for not being on hand for the livestream. Fry says he's happy to be in The Hobbit 2 and possibly in 3 – is it really possible he still doesn't know if he'll be in it? 3:30 A question from two girls from China about Orlando Bloom comes with some behind-the-scenes footage of him goofing off on set, contrasted with a scene he shares with Pace in which Legolas, as always, is being uptight. 3:31 Orlando Bloom, contributes his own video, and asks Jackson what moment he's most looking forward to seeing onscreen. Jackson picks a moment of confrontation between Bilbo and Smaug, and we see a lot of teasing behind-the-scenes footage of Freeman on the set in the giant pile of gold you see in the top image here. Of course, no Smaug to be seen. What a tease! 3:32 Back to Stephen Fry, talking about how his character represents political satire from Tolkien about small-town government. He'll also be returning to set this summer to complete the film, and claims not to know how his character winds up in the end. What a mystery! 3:33 Now we're seeing some footage of Evans as Bard the Bowman, with Jackson describing him as a Robin Hood figure, and not knowing if he's a good guy or a bad guy. He does look quite dashing in that long leather coat. 3:34 Now a look at Evangeline Lilly's Tauriel, in quite a few fight scenes. She's a Woodland Elf, with less status than Legolas, and she's part of the guard. She looks pretty badass taunting an Orc with death."
The Hobbit is a film adaptation of the 1937 novel of the same name by J. R. R. Tolkien and prequel to The Lord of the Rings film trilogy. Jackson, director of The Lord of the Rings, returns as director of the film and also serves as producer and co-writer. The films star Martin Freeman as Bilbo Baggins and Richard Armitage, known for playing Lucas North in the BBC drama series Spooks, as Thorin Oakenshield. Several actors from Jackson's The Lord of the Rings film trilogy will reprise their roles, including Ian McKellen, Andy Serkis, Hugo Weaving, Cate Blanchett, Christopher Lee, Ian Holm, Elijah Wood, and Orlando Bloom. Additionally, composer Howard Shore, who wrote the score for The Lord of the Rings film trilogy, has confirmed his role in all three parts of the film project. The Hobbit: The Desolation of Smaug comes to theaters on December 13th, 2013.