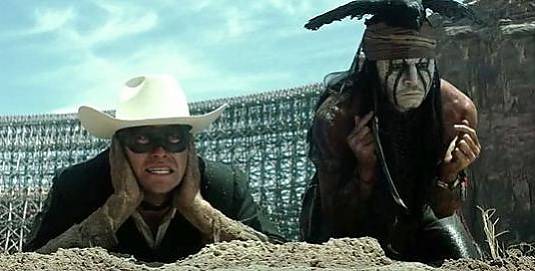 Hey guys, here's another TV spot for The Lone Ranger! Short one, but promises a lot of fun. I mean – fun & action. Whatever, the most important thing is that Gore Verbinski's upcoming western stars great Johnny Depp and Armie Hammer as two unlikely heroes who must learn to work together and fight against greed and corruption. They make a good team, hope you agree?
So, as you already know (and see in this video) – this July, the filmmaking team behind Pirates of the Caribbean franchise, is bringing us a thrilling adventure infused with action and humor, in which the famed masked hero is brought to life through new eyes.
The story revolves around Depp's character Tonto who recounts the untold tales that transformed John Reid (played by Hammer), a man of the law, into a legend of justice.
Beside the above mentioned duo, The Lone Ranger cast also includes Tom Wilkinson, William Fichtner, Barry Pepper, James Badge Dale, Ruth Wilson and Helena Bonham Carter, and the movie is set to open on July 3rd, 2013.