Movie Posters
THE MAGIC OF BELLE ISLE: Official Trailer and Poster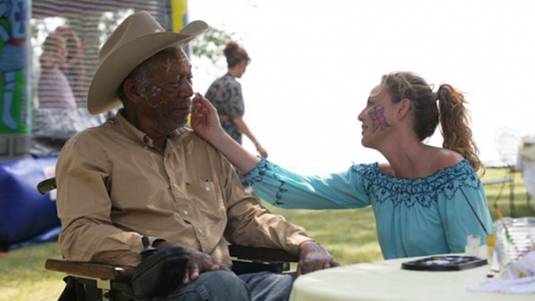 Magnolia Pictures has debuted the trailer and poster for the latest charming Rob Reiner film The Magic of Belle Isle that is trying to survive a tsunami of superhero movies this summer.
The film stars Morgan Freeman as a famous Western novelist, Monte Wildhorn whose struggle with alcoholism has sapped his passion for writing. He takes a lakeside cabin for the summer in Belle Isle, where he befriends a single mom played by Virginia Madsen and her three young daughters who help him feel inspiration once again.
Guy Thomas co-wrote the screenplay along with Oscar nominated Reiner, which co-stars Madeline Carroll, Fred Willard, Kenan Thompson, and Kevin Pollak.
The Magic of Belle Isle will be released first on VOD on June 1st, and then opens in theaters on July 6th, 2012.
Check out this well crafted trailer for a really feel-good dramedy.
[youtube]http://www.youtube.com/watch?v=2ECo5Tbnd4Q[/youtube]