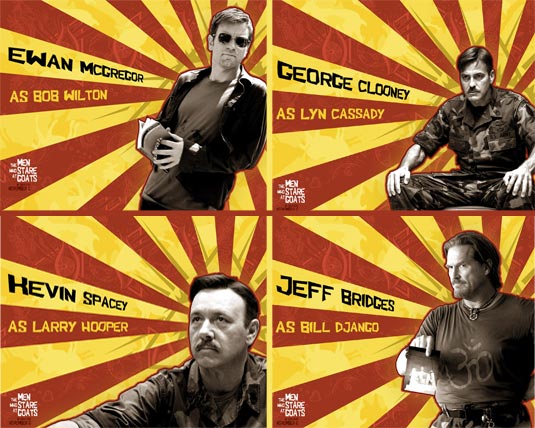 Overture Films
has debuted character wallpapers for "
The Men Who Stare at Goats
" today, featuring the four leads: 
George Clooney, Ewan McGregor, Kevin Spacey
and
Jeff Bridges
. Judging by the very cool trailer and the quality of the cast,  it's going to be a bleeding corker. A reporter (McGregor), trying to lose himself in the romance of war after his marriage fails, gets more than he bargains for when he meets a special forces agent (Clooney) who reveals the existence of a secret, psychic military unit whose goal is to end war as we know it. The founder of the unit has gone missing and the trail leads to another psychic soldier who has distorted the mission to serve his own ends. Jeff Bridges plays Bill Django, founder of the psychic soldier program and Lyn's mentor. Kevin Spacey's character, Larry Hooper, is a former psychic soldier who is running a prison camp in Iraq. The dark comedy is directed by (actor-turned-writer-turned-director)
Grant Heslov
, who penned "Good Night and Good Luck," from the script written by
Peter Straughan
("How to Lose Friends & Alienate People"). "
The Men Who Stare At Goats
" will be in theaters on November 6th, 2009.
The Men Who Stare at Goats Wallpapers