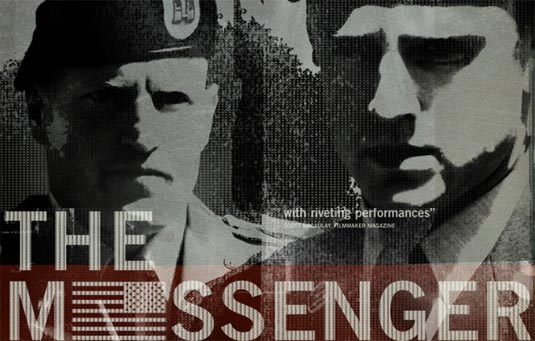 The official poster  for Iraq War drama "The Messenger," starring Ben Foster, Woody Harrelson, Samantha Morton, Jena Malone, Eamonn Walker has been released.
"The Messenger" synopsis:
With three months left in the service, Will (Ben Foster) has spent a good deal of time in army hospitals, healing scars from his time in Iraq. To make things worse, the girl he left behind (Jena Malone) has moved on with her life. Ironically, his chance at a fresh start lies in working shoulder to shoulder with Tony (Woody Harrelson), a senior officer who teaches him the ropes of his new post with the Casualty Notification Office. Will, who narrowly escaped death, must now break the news about those who didn't.
Between assignments, these two soldiers form a unique bond that helps them in their struggle to get back to ""normal"" life, fully knowing nothing will ever really be normal again.Proving himself a cinematic craftsman, director Oren Moverman deliberately hasn't made a political film. The Messenger isn't even about the military at its core; it's about people choosing to live life and finding the light and humor at the end of the tunnel. Harrelson and Foster infuse these complex characters with the necessary pathos to raise their story to a new level of compassion. Foster adds yet another layer when Will faces an ethical dilemma because he is drawn to one of the young widows, played by Samantha Morton. She rounds out this powerhouse cast in a moving and elegant film that is an elegy of our time.
"The Messenger" is the directorial debut of "I'm Not There" and "Jesus' Son" writer Oren Moverman. You can catch it in theaters on November 13, 2009 in limited release.

The Messenger Poster