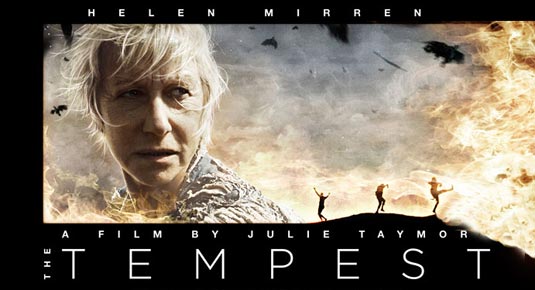 Touchstone Pictures has debuted the first poster for the upcoming
The Tempest
movie, based on William Shakespeare's play. The film tells the tale of the Duchess Proaperas' banishment to a "primitive" Island with her young daughter where she is forced to master the elements of nature and magic. Prospera plots to return her Daughter to her rightful place and wreak revenge on those responsible for her downfall. When the opportunity arises she calls forth a powerful storm (Tempest) to bring her betraying brother and all the key players in her usurping to the Island where she will have a decidedly "home court" advantage.
The Tempest
stars
Helen Mirren
(Prospera),
Russell Brand
(Trinculo),
Alfred Molina
(Stephano),
Djimon Hounsou
(Caliban),
Alan Cumming
(Sebastian),
Chris Cooper
(Antonio),
Ben Whishaw
(Ariel) and
David Strathairn
(Alonso). The film is directed by
Julie Taymor
(Titus, Frida, Across the Universe)
The Tempest
is set to premiere at the
Venice Film Festival
in September before hitting theaters on December 10, 2010.
The Tempest Poster