Movie News
THE TOMB Starring Sylvester Stallone and Arnold Schwarzenegger Production Starts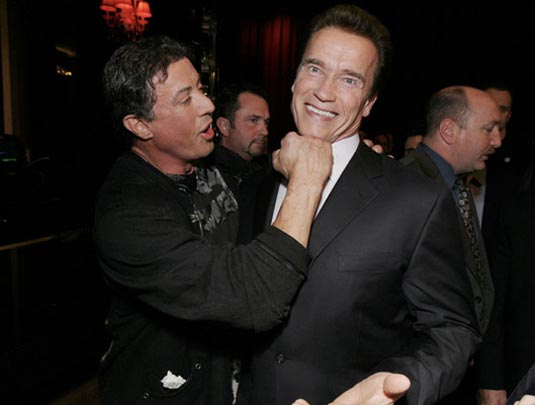 Hey
action lovers
– we have some great news for you today! Production is underway on Summit Entertainment's
The Tomb
. And yes, this is an official thing! As you already know,
Mikael Hafstrom
's upcoming action-thriller has some great cast on board, which includes
Sylvester Stallone, Arnold Schwarzenegger, Curtis "50 Cent" Jackson
and
Jim Caviezel
. For more details, check out the rest of this report… The Tomb sounds a little bit familiar, but who cares – let's see it once again! The movie, written by
Miles Chapman
for the screen, with a rewrite by
Jason Keller
, will center on Ray Breslin, the world's foremost authority on structural security, who's analyzed nearly every high security prison. Of course, you already guess that Stallone is that guy, and as usual – some shit happens and he will soon have to escape from a high-tech prison facility that's design is based on his own protocols. On the other hand, Schwarzenegger stars as Emil Rottmayer, the guy who fights to keep the prisoners from losing their humanity in their darkest hour as they struggle together to stay alive. Above mentioned Jim Caviezel plays character named Hobbes, described as the warden of the Tomb, while
Vinnie Jones
stars as the lead guard of the maximum-security facility named Drake. As for the rest of the cast – it includes 50 Cent as Hush, high-technology expert (yeah, I know this sounds funny),
Vincent D'Onofrio
as Lester Clark, CEO of B&C Security,
Amy Ryan
as Abigail Ross, jack-of-all trades and
Sam Neil
as Dr. Emil Kaikev, the prison doctor embedded within the Tomb. Schwarzenegger and Stallone will next be seen on screen together in The Expendables 2, which opens this summer. And what about The Tomb? Anyone interested in this one? Let us know and stay tuned for more!