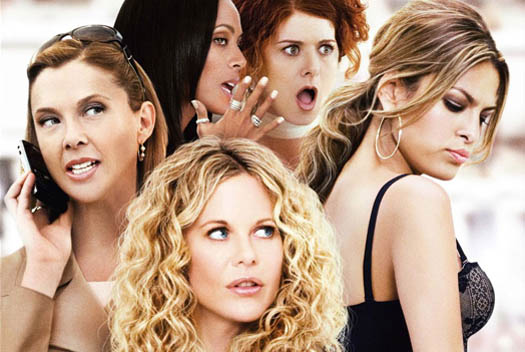 Adaptation of
Clare Boothe Luce
's 1936 play "
The Women
", first made famous by director
George Cukor
's iconic 1939 film with the same name.New comedy romance "The Women" is a remake of George Cukor's movie, directed by
Diane English
with the great cast – Meg Ryan, Candice Bergen, Annette Bening, Eva Mendes, Jada Pinkett Smith, Debra Messing, Bette Midler… Check out the trailer
HERE
Set in New York City's modern whirl of fashion and publishing, "The Women" tells the story of Mary Haines (Meg Ryan), a clothing designer who seems to have it all – a beautiful country home, a rich financier husband, an adorable 11-year-old daughter and a part-time career creating designs for her father's venerable clothing company.
Her best friend, Sylvie Fowler (Annette Bening), leads another enviable life – a happily single editor of a prominent fashion magazine, a possessor of a huge closet of designer clothes and a revered arbiter of taste and style poised on New York's cutting edge.
But when Mary's husband enters into an affair with Crystal Allen (Eva Mendes), a sultry 'spritzer girl' lurking behind the Saks Fifth Avenue perfume counter, all hell breaks loose.
Mary and Sylvie's relationship is tested to the breaking point while their tight-knit circle of friends, including mega-mommy Edie Cohen (Debra Messing) and author Alex Fisher (Jada Pinkett-Smith),all start to question their own friendships and romantic relationships as well.
Starring:
Meg Ryan, Candice Bergen, Annette Bening, Eva Mendes, Jada Pinkett Smith, Debra Messing, Bette Midler, Cloris Leachman, Carrie Fisher, Lynn Whitfield, Ana Gasteyer, Debi Mazar, Joanna Gleason.
Release Date: 12 September 2008