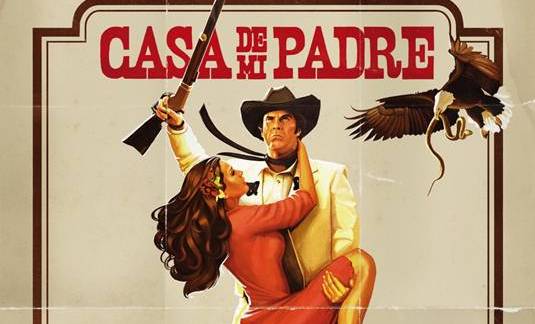 Here's a new poster for the
Will Ferrell
and
Adam McKay
-produced Spanglish comedy,
Casa de mi Padre
(House of My Father) previously titled Untitled Spanish Comedy. The film, which is being described to be in the style of an 'overly dramatic telenovela' stars Will Ferrell (Saturday Night Live),
Gael García Bernal
(The Motorcycle Diaries),
Génesis Rodríguez
(Man on a Ledge) and
Diego Luna
(Y Tu Mamá También). The plot revolves around a Mexican rancher Armando Alvarez (Ferrell) who got into financial problems and must save his family's farm while defeating a notorious drug lord, the mighty Onza (Bernal) and winning the hand of the lovely Sonia (Rodríguez). 'The funniest movie you'll ever read' as they promise it will be is directed by Emmy Award winning Matt Piedmont (Saturday Night Live) from a screenplay by Andrew Steele (Saturday Night Live) and was shot using the Panavision C series anamorphic lenses. The film is in post-production as of January 2011 and comes to theaters March 16th, 2012. Obviously, the Saturday Night Live crew reunites for Casa de mi Padre, which is more promising. Take a look at this 1-sheet eye-catcher below and pay attention to the eagle with snake in its mouth.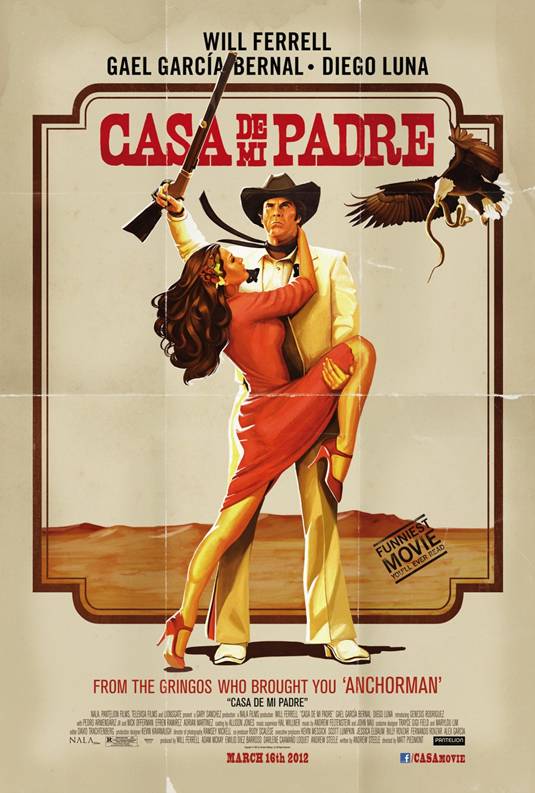 Casa de mi Padre – Poster
[youtube]http://www.youtube.com/watch?v=dZxJJnuhCZc[/youtube]
Casa de mi Padre – Trailer