Movie Trailers
THOR: THE DARK WORLD On-the-Set Video Of Thor & Malekith Battle Scene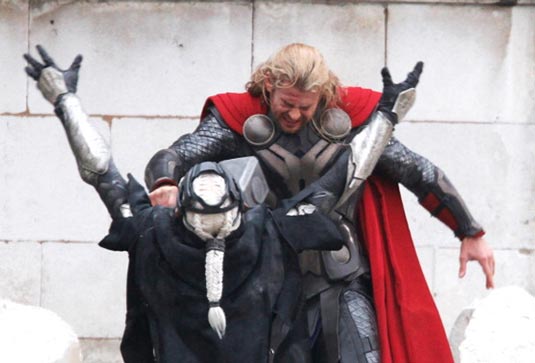 Filming on a university campus these days pretty much insures that some cell phone video of the production is going to be put on the Internet. It's what the young people do with their spare time these days. So it should be no surprise that some of the best pictures and video we've seen of Alan Taylor's Thor: The Dark World are coming from students attending classes at University of Greenwich/Old Royal Naval College.
Today, we have two, featuring Chris Hemsworth's Thor and Christopher Eccleston's Malekith: this first one shows how the scene is blocked out and how the actors move to allow the camera to get each shot required, and the second, short one, shows a stunt. Have a look:
Thor: The Dark World hits the theaters on November 8th, 2013 and it also stars Natalie Portman, Idris Elba, Tom Hiddleston, Anthony Hopkins, Zachary Levi, Kat Dennings, Stellan Skarsgard, Jaimie Alexander, Ray Stevenson, Adewale Akinnuoye-Agbaje, Rene Russo and others.