Movie News
Three More UK Enroll Scott's Prometheus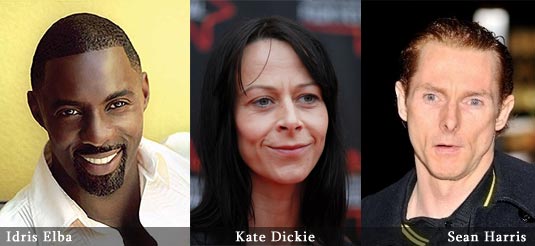 Ridley Scott's great ensemble cast in upcoming Prometheus, which includes Oscar- winning Charlize Theron and hot actors Michael Fassbender, Noomi Rapace have joined Idris Elba, Sean Harris and Kate Dickie.
Scott's new epic science fiction film called Prometheus, starts filming in three weeks. The director of Alien, Gladiator, Thelma and Louise and Black Rain did confirm  during cocktails at a pre-Oscar tribute to Harvey Weinstein that it is a real sci-fi thriller:
It's the story of creation, the gods and the man who stood against them. It's not a small film,'
R-Scott spoke, rather humorously to Baz Bamigboye.
I'm using the giant James Bond 007 stage at Pinewood and six other sound stages to film it,'
Scott added and declared 'Prometheus' was not a prequel to his classic sci-fi 'Alien,' as was previously suggested. Scott, further more told that he has been keeping the film's script under wraps, fearing that plot details may be revealed online:
I was insistent that the script not leak onto the internet, where it gets dissected out of context, which spoils it for everyone."
This weekend was also reported the famous Space Jockey would be making an appearance in Scott's sci-fi horror and it'd be in 'animatronic' form — in fact Space Jockey creature has been built as an eight foot 'animatronic.' The script has been worked on by Damon Lindelof. Monsters actor Scoot McNairy is said to be in talks to join 'Prometheus.'
Idris Elba's simply the best known of the British trio, thanks to his role as Stringer Bell on HBO's The Wire, and a few big-screen credits in latest years, like Obsessed,  Takers, The Losers and the forthcoming Thor. Sean Harris is a familiar face too, through his portrayal of Ian Curtis in 24 Hour Party People and often villainous roles in recent years, as a drug dealer in the Harry Brown, and as Bob Harris in the Red Riding trilogy. Scottish actress Kate Dickie is the least known in the US, but she's well-known in UK indies since Red Road and series The Pillars of the Earth,  produced by Ridley & Tony Scott, which may be how she was noticed by the director.
Prometheus will open worldwide on June 8, 2012.