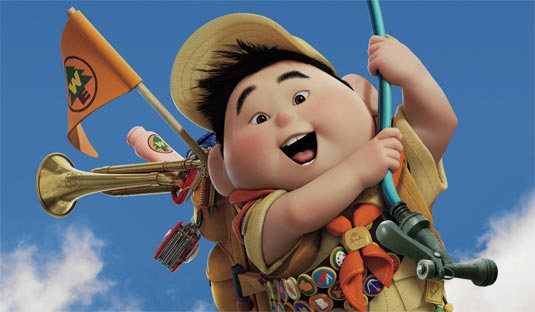 The folks over at /Film,   ComingSoon and  Ain't it Cool have debuted new character posters from Pixar's latest animated feature, "Up."

Carl Fredricksen spent his entire life dreaming of exploring the globe and experiencing life to its fullest. But at age 78, life seems to have passed him by, until a twist of fate (and a persistent 8-year old Wilderness Explorer named Russell) gives him a new lease on life. "Up" takes audiences on a thrilling journey where the unlikely pair encounter wild terrain, unexpected villains and jungle creatures.

The film will be presented at WonderCon in San Francisco on Saturday, February 28th from 3:30 – 4:30pm in the Esplanade of the Moscone Center with director Peter Doctor and producer Jonas Rivera in attendance. Also, the first 45 minutes of the movie was shown at BNAT. If you are in San Francisco get in line early because there's only 250 seats. No cameras, phones, or recording devices will be allowed at the screening, and all must be checked at the door. Pixar's "Up" is directed by Pete Docter (Monsters, Inc) and co-directed and written by Bob Peterson, who wrote "Finding Nemo" previously. The voices are provided by Ed Asner, Christopher Plummer, John Ratzenberger and Jordan Nagai. The film is scheduled to hit theaters on May 29th in Disney Digital 3-D.