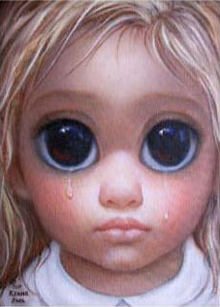 We already had a little chat about Tim Burton's involvement in the upcoming 3D stop-motion animated adaptation of Charles Addams' The Addams Family.
Last thing we heard about this project was that things were (and apparently still are) moving forward, and today we're here to report that Burton will reunite with Ed Wood screenwriters Scott Alexander and Larry Karaszewski for this project.
"The project is based on artwork that Tim absolutely loves. The retrospective in New York of Tim's own artwork showed how much of an influence Charles Addams was to him. We want the tone to be as darkly funny and subversive as the Addams drawings, and we've come up with an approach that nobody has ever done before," Karaszewski said.
And, like that's not enough of collaboration, Burton has also tapped the writers to pen Big Eyes a new project that he won't be directing, but will be producing.
It's a story about: "Walter Keane became a national celebrity and talk show fixture in the 1950s after he pioneered the mass production of prints of big-eyed kids, and used his marketing savvy to sell them cheaply in hardware stores and gas stations across the country.
Unfortunately, he claimed to be the artist. That role was played by Margaret, his shy wife. She generated the paintings from their basement and Walter's contribution was adding his signature to the bottom.
The ruse broke up their marriage, and when she tried to make it known that she authored the paintings, they ended up in a court battle after Walter called her crazy. The case culminated in a dramatic courtroom showdown.
The judge put up two easels, side by side, and challenged each of them to start painting. He begged off, blaming a shoulder injury, while she dashed off her familiar big-eyed creation."
As for Big Eyes project, Burton said:
"I am excited to be working with Scott and Larry again. I've always been a great admirer of Margaret Keane's work and find her story intriguing."
One more reason, for us, to keep an eye on Burton's work. Stay tuned for more updates!