Movie News
Toby Jones as Arnim Zola in Captain America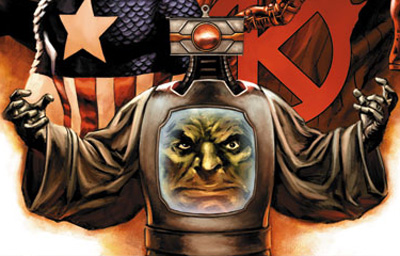 British actor
Toby Jones
will play Arnim Zola, the evil scientist and right hand man to The Red Skull in
Joe Johnston
's upcoming
Captain America: The First Avenger
movie. So, he's joining the cast that already includes
Chris Evans
as Captain America,
Sebastian Stan
as Bucky Barnes,
Hugo Weaving
as the film's villain Red Skull, and British actress
Hayley Atwell
as the Captain's World War II girlfriend Peggy Carter. Well, that's some nice role for Jones. If you don't have any idea about who Arnim Zola was, here's a little description: "a biochemist during World War II who became one of the first human genetic engineers in history after finding papers and equipment used by the offshoot race of humanity, the Deviants. He found a ready home among the Nazi party, who saw his actions as the ability to ensure the existence of a master race." He was particularly famous for developing a device that could allow a person to mentally project themselves into a cloned brain. He made his first comic appearance way back in 1977 in Captain America #208. Toby Jones is known for playing such real life people as Karl Rove in Oliver Stone's
W
, Swifty Lazar in
Frost/Nixon
, and Truman Capote in the film
Infamous
. Or, maybe you remember him from
Harry Potter
films, where he voiced the character of Dobby the House Elf? We guess you do, and if he's one of your favorite actors, let's remind you that he'll next been seen in a comedy by Universal called
Your Highness
with
Natalie Portman
and
James Franco
. Anyway, Johnston's movie begins shooting this June in England, and will hit theaters July 22, 2011. Get ready for Captain America's adventures, and stay tuned!
Toby Jones