Movie News
Tom Cruise or James McAvoy in Guillermo Del Toro's At the Mountains of Madness?
We already had a little chat about Guillermo Del Toro's At the Mountains of Madness movie.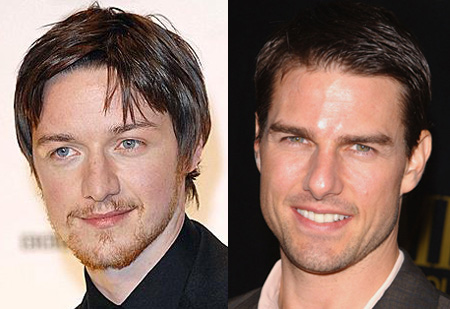 Another big name is attached to this project, James Cameron, who will also produce the movie that will be shot in 3D. Today, we're here for a little update, only this time, cast update! Well, it's not actually official, so consider this as a rumor, but according to some reports, guys from Universal want James McAvoy to play the lead in the film, while del Toro wants Tom Cruise to star. Chris Pine's name was also being tossed around, but his busy schedule may be "too packed". As you all remember, McAvoy is about to start filming on X-Men: First Class movie, where he'll play the young Professor Charles Xavier, and he is attached to co-star in Tom Tykwer's adaptation of David Mitchell's novel Cloud Atlas as well. Cruise, on the other hand starts shooting on the fourth Mission: Impossible in October, and is also planning to star in a movie about uber-mogul Les Grossman. Del Toro has long been fascinated with H.P. Lovecraft's seminal story, which "is written in first-person perspective by the geologist William Dyer, a professor from Miskatonic University. He writes to disclose hitherto unknown and closely kept secrets in the hope that he can deter a planned and much publicized scientific expedition to Antarctica. On a previous expedition there, a party of scholars from Miskatonic University, led by Dyer, discovered fantastic and horrific ruins and a dangerous secret beyond a range of mountains taller than the Himalayas." Guillermo del Toro, director and co-writer of At the Mountains of Madness movie will begin pre-production in the coming weeks with a summer 2011 3D shoot in mind.