Movie News
Tom Hanks, Halle Berry, James McAvoy, Ian McKellen in Tom Tykwer's Cloud Atlas?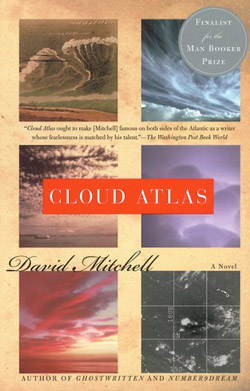 If there's such thing as impressive cast list then this project definitely has it! If there's such thing as impressive producing then this project has it too!
Director Tom Tykwer asked Tom Hanks, Halle Berry, James McAvoy and Sir Ian McKellen to star in his latest film, the adaptation of the award-winning novel by British author David Mitchell, Cloud Atlas.
Natalie Portman has been linked to the film before so seems likely to sign on. This project is going to be produced by the Wachowski Brothers, the pair behind the Matrix trilogy. See what we're talking about?
Mitchell's book "consists of six nested stories that take us from the remote South Pacific in the nineteenth century to a distant, post-apocalyptic future. Each tale is revealed to be a story that is read (or watched) by the main character in the next.
All stories but the last one get interrupted at some moment, and after "Sloosha's Crossin' an' Ev'rythin' After" concludes at the center of the book, the novel "goes back" in time, "closing" each story as the book progresses in terms of pages but regresses in terms of the historical period in which the action takes place. Eventually, readers end where they started, with Adam Ewing in the Pacific Ocean, circa 1850."
So, at this moment we have a rumor that offers have gone out to Tom Hanks, James McAvoy, Ian McKellen, Halle Berry and Natalie Portman. Of course, it's too early for any kind of speculation, and we have no idea what parts they might play.
But one thing is for sure, if this really happens, then this could easily be one of the greatest casting news in a long time!
Definitely something worth keeping an eye on! Make sure you stay with us!