Movie News
Tom Hanks, Halle Berry, James McAvoy, Natalie Portman in Tom Tykwer's CLOUD ATLAS Officially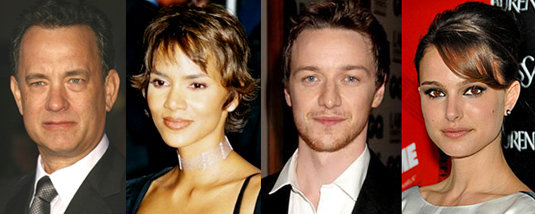 We already had a little chat about the upcoming Tom Tykwer's adaptation of the award-winning novel by British author David Mitchell titled Cloud Atlas, so you all remember that quite interesting names are involved in the whole project.
Today, we're here to make things official and to report that Tom Hanks, Halle Berry, James McAvoy and Natalie Portman are officially attached to this movie, while Ian McKellan remains a "question mark".
David Mitchell's book "consists of six nested stories that take us from the remote South Pacific in the nineteenth century to a distant, post-apocalyptic future. Each tale is revealed to be a story that is read (or watched) by the main character in the next.
Cloud Atlas follows: "A reluctant voyager crossing the Pacific in 1850; a disinherited composer blagging a precarious livelihood in between-the-wars Belgium; a high-minded journalist in Governor Reagan's California; a vanity publisher fleeing his gangland creditors; a genetically modified "dinery server" on death-row.
And Zachry, a young Pacific Islander witnessing the nightfall of science and civilisation – the narrators of Cloud Atlas hear each other's echoes down the corridor of history, and their destinies are changed in ways great and small…"
At this moment we have no detailed information about this project, except the fact that Wachowski Brothers will produce, and all involved hope for a production start of Spring 2011. Ambitious, indeed, and we're expecting more updates about this one. So, stay tuned!