Movie News
Tom Hardy About Playing Bane, Nolan about filming in IMAX Plus More Awesome Pics From THE DARK KNIGHT RISES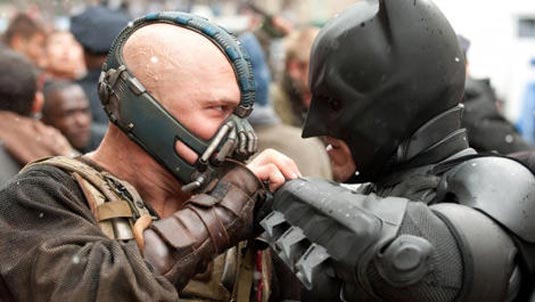 We have all probably caught a glimpse at
Tom Hardy
's performance as Bane from the images and trailers for
The Dark Knight Rises
, but… In a little interview given to Entertainment Weekly, Mr Hardy reveals his take on playing Bane – and how he will differ from the late
Heath Ledger
's portrayal of Joker in the last Batman movie,
The Dark Knight
.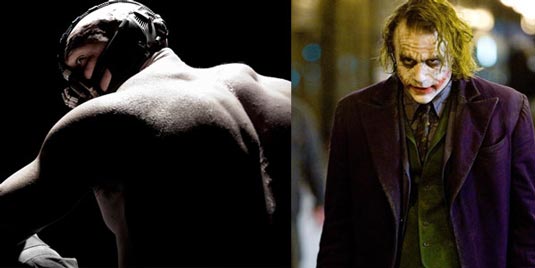 "The Joker didn't care," Hardy says "He just wanted to see the world burn, and he was a master of chaos and destruction, unscrupulous and crazy. Bane is not that guy. There is a very meticulous and calculated way about Bane. There is a huge orchestration of organization to his ambition. He is also a physical threat to Batman. There is nothing vague about Bane. No jokes. He's a very clean, clear villain." I must admit, though, that he seemed to me as just a brain-sunken-in-muscles mindless-type-minion of Poison Ivy from 1997
Joel Schumacher
's
Batman & Robin
(but then again, it was THE worst of all Batman movies… EVER! I mean – as Nostalgia Critic dude from thatguywiththeglasses.com says – Bat-NIPPLES? Bat-CREDIT-CARD?! Really?!), and not much like that from what little Batman comics I've read. I hope that this time I will be pleasantly surprised by Bane's portrayal (You hear that, Mr Hardy? Don't you DARE disappointing me!).
Christopher Nolan
surely couldn't have known (asking him to play the villain in the third and final installment in Batman series) the level of Tom Hardy's enthusiasm about playing Bane – "I think he worried it would be something I might not consider because wearing a mask might damage my career or something. He thought I'd be worried that the audience couldn't see my beautiful face," says Hardy, who also worked for Nolan in the filmmaker's 2010 Oscar-nominated smash
Inception
. "Like I care. It's Chris Nolan! I would wear a paper bag over my head for that man." You can read the rest of the interview
here
. In the meantime, Mr Nolan has been explaining why he chose to shoot this final sequel in IMAX rather than 3D. "Warner Bros. would have been very happy with 3D," he says, "but I said to the guys there that I wanted it to be stylistically consistent with the first two films and we were really going to push the IMAX thing to create a very high-quality image." "3D is a misnomer," he continues. "Films are 3D. The whole point of photography is that it's three-dimensional. The thing with stereoscopic imaging is it gives each audience member an individual perspective." "It's well suited to video games and other immersive technologies, but if you're looking for an audience experience, stereoscopic is hard to embrace. I prefer the big canvas, looking up at an enormous screen and at an image that feels larger than life." I doubt that anyone will complain, with only about three months until premiere on July 20th. Meanwhile, enjoy these new pics from the movie.