Movie News
TRUE BLOOD Season 6 Premieres on June 16th!!!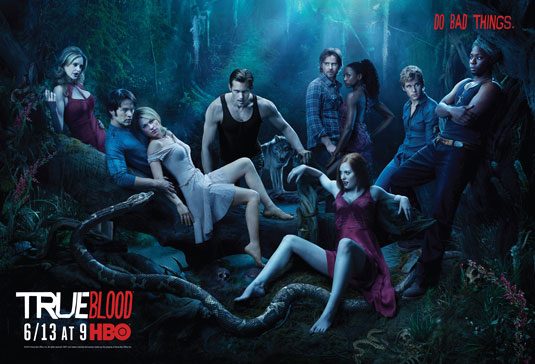 HBO has finally announced the debut date for the sixth season of
True Blood
, the fantasy drama series about psychic, quarter-fairy waitress, Sookie Stackhouse, and the many supernatural inhabitants of the small Louisiana town of Bon Temps. The first episode of season 6 will air on Sunday, June 16th at 9:00-10:00 p.m. (ET/PT). So far, the show has had everything from vampires to witches, shape-shifters to fairies and more, so what could the writers possibly invent next (since they took off the series on its own way, away from events in the books, a long time ago)? Since the season 5 finale aired way back in August 2012, this might be a good time to rewatch the season and refresh memory of the events. So what can we expect to see in the next season of True Blood? Alan Ball has hinted that the mysterious vampire Warlow will have a significant impact on future events (if you haven't gotten to that conclusion already, watching the season). We also know that this season's story arc will be a bit shorter than those seen previously, as the length of the season was cut to just 10 episodes (from the usual 12), partly for "economic reasons" and partly because
Anna Paquin
was pregnant with twins by co-star
Stephen Moyer
and due to give birth in November 2012, limiting the amount of time that they had to shoot the next season. We found out recently that
Robert Patrick
will be brought back as a series regular. Patrick plays Alcide's father, Jackson Herveaux, a former Packmaster-turned-alcoholic who lives a lonely life in a trailer until being reunited with his outcast son and drawn into the confrontation with JD. As father of the current Packmaster, Jackson may play a mentor role as Alcide finds his feet as a leader, and we may even find out more about why Jackson was kicked out of the pack in the first place. There are still an awful lot of characters to keep track of (no matter how fast the writers kill them off, more keep springing up), which means the number of different subplots is starting to verge on unmanageable. To give the writers credit, they pulled the various plots together with admirable deftness in order to get most of the characters gathered together in one place during the climax at the Authority HQ, but now that the show's creator
Alan Ball
has left as showrunner (remaining only as executive producer), it remains to be seen whether the current team of writers has what it takes to keep the numerous story arcs from spiralling apart again. So, should fans be excited for this next season? Well, unless the events in the latter half of season 5 managed to dampen the fanbase's passion for the show, there's a good chance that the shocking climax of the final episode has many people on their toes, itching to find out what happens next. Are you looking forward to see more of Sookie and the crew? Leave a comment! First episode of Season 6 of True Blood will air on June 16, 2013 1t 9:00/10:00 p.m. on HBO, and it will also star
Alexander Skarsgard
,
Ryan Kwanten
,
Kristin Bauer van Straten
,
Rutina Weasley
,
Sam Trammell
,
Nelsan Ellis
,
Chris Bauer
,
Deborah Ann Woll
,
Joe Manganiello
and others.
(yeah, I know it's a poster for one of the previous seasons, but DAMN he's good! And, posters for this new season haven't been released yet. You'll be the first ones to see them, we'll make sure of that!)