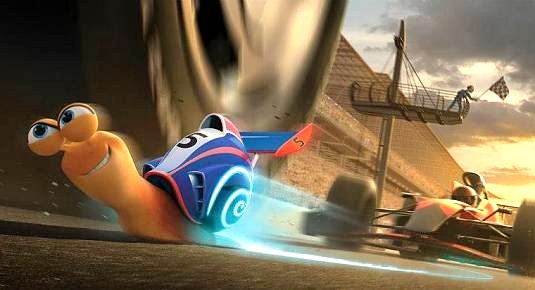 Turbo
is awesome! This little garden snail not only has
balls
guts, but he's also ready to practice and achieve his biggest dream! Today, we're here to support this cutie and share one short (but great!)
revs-up
video with you, 'cause trust me – he's definitely
Slo No Mo
! As a matter of fact –
he's fast, they're furious
, remember? Man, I love this guy! As you already know
Ryan Reynolds
stars as the titular character, Theo aka Turbo, an ordinary garden snail whose dream to become the fastest snail in the world comes true…
The whole thing is based on an original idea by
David Soren
, who is also directing the film, and the rest of the cast includes
Paul Giamatti
,
Ken Jeong
,
Maya Rudolph
,
Ben Schwartz
,
Snoop Lion
, and
Samuel L. Jackson
. In case you forgot the official synopsis:
Turbo desperately wishes he could escape the slow-paced life he's living. He gets that chance after a freak accident when he suddenly finds himself vested with the power of incredible speed. Turbo embarks on an extraordinary journey to achieve the impossible: racing against the best that IndyCar has to offer. Turbo is the ultimate underdog who achieves the impossible by refusing to let his limitations limit his dreams.
Turbo
is set to open on July 17th, 2013. Let us know what you think about the
trailer
and this new promo & stay tuned for more updates!