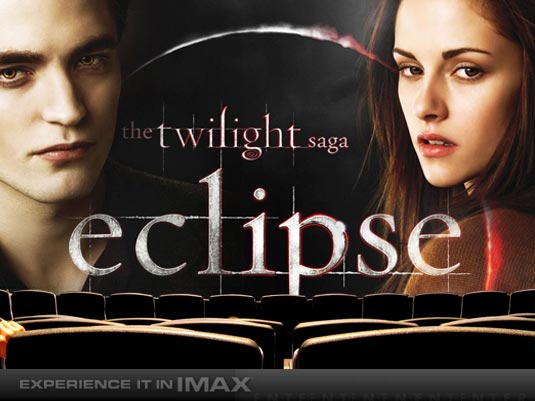 The third film in the Twilight series, "
The Twilight Saga: Eclipse
," is to be shown in IMAX cinemas in addition to its regular release. The IMAX release of "Eclipse" will feature digitally remastered sound and images designed to fit the enormous screens of IMAX theaters. Read the full press release below: IMAX Corporation and Summit Entertainment announced today that The Twilight Saga: Eclipse, the third film in the studio's Twilight franchise, will be released to IMAX® theatres simultaneously with the film's launch on June 30, 2010. Directed by David Slade (30 Days of Night, Hard Candy) and starring Kristen Stewart Robert Pattinson and Taylor Lautner, The Twilight Saga: Eclipse will be digitally re-mastered into the unparalleled image and sound quality of The IMAX Experience® with proprietary IMAX DMR® (Digital Re-mastering) technology. The crystal-clear images coupled with IMAX's customized theatre geometry and powerful digital audio create a unique environment that will make audiences feel as if they are in the movie. The film franchise is based on the book series by Stephenie Meyer.
"Twilight moviegoers will have a whole new way to experience this next installment of the series, with the enhanced image and sound quality of The IMAX Experience putting them IN the movie," said Richie Fay, Summit Entertainment's President of Domestic Theatrical Distribution. "The IMAX release puts us on the event film calendar for 2010, and we're very excited to work with IMAX to bring a new kind of film to the IMAX theatre network."
"Our 2010 film slate continues to fill out with strong titles, and a film from this incredible franchise is a very welcome addition," said IMAX CEO Richard L. Gelfond. "This title fills a valuable spot in our 2010 summer release window, and will no doubt thrill IMAX audiences."
"We're very excited to work with our new partners at Summit Entertainment to transport the very loyal and enthusiastic Twilight fans into the world of the Volturi via The IMAX Experience," added Greg Foster, Chairman and President of IMAX Filmed Entertainment. "With our growing theatre network, we're poised to take advantage of the rapidly growing fan-base devoted to this dynamic, cutting edge series."
Twilight:Eclipse synopsis:
Eclipse starts out with a mysterious string of murders in Seattle. Edward thinks that these are newborn vampire attacks. This makes Charlie very careful about where Bella goes. Edward and Bella fill out college applications and Bella is making plans on when she will become a vampire. Jacob Black, Bella's werewolf friend, becomes a major role in this novel as Bella starts to hang around with him. It is only until one day when she visits him when he tells her that he loves her and forcefully kisses her. She is not pleased and punched him, but because he's a werewolf, she breaks her hand. Then, they have and on-and-off friendship throughout the book. When Bella claims a few days later that she "wants Edward" Edward proposes to her, and says that he will turn her into a vampire if she agrees to marry him first. The band of new born vampires are lead by Victoria, and they are coming closer. However, the Cullens and the Wolf Pack have a plan. They will all come together and fight the vampires to make Bella and everyone else safe. In the end, the Cullens and Wolf Pack have no casualties, and Victoria and her gang is defeated. Jake is furious about Bella's decision to become a vampire, so he runs off. But Bella is so happy to be with Edward, which will soon be forever. "The Twilight Saga: New Moon" is approaching the $260 million mark at the domestic box office. Twilight: Eclipse will be released to theaters on June 30, 2010.