Movie Photos
Two More IRON MAN 3 Character Posters Plus Another Image; New Trailer Might Feature the Iron Legion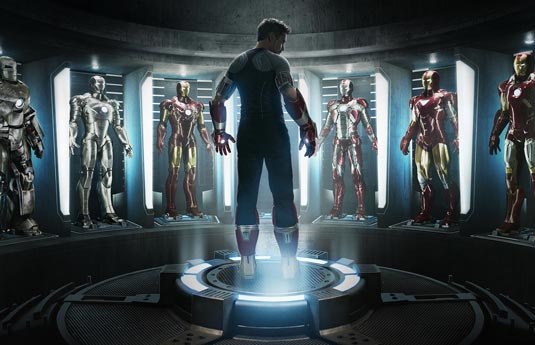 After Marvel Studios released a super cool
Iron Man 3
one-sheet featuring
Robert Downey Jr. clad in a battle-damaged Mark XLVIII armor
falling from the sky, then one with
Don Cheadle as Iron Patriot
,
Guy Pearce got one
for his character Aldrich Killian, and most recently,
Ben Kingsley posed as the villainous Mandarin
. We also presented
three new photos from the film
featured in the magazine. Now it's time for Stark's most trusted partner, love of his life and CEO of Stark Industries to step into the spotlight – namely,
Gwyneth Paltrow
aka Pepper Potts. Click for the full image:
The image pays homage to the scene from the trailers where Pepper holds a broken Iron Man helmet after the attack on Stark's mansion. While the bets are still on – on whether or not the Oscar-winning actress will get a chance to wear her own set of armor on screen – she at least has a new Iron Man 3 poster all to herself. The second new image/poster is the
Empire Magazine
latest issue cover and features Stark, in his shiny new armor. Click to see full version:
Now, the second official full-length Iron Man 3 trailers releases in less than two weeks, attached to Disney's Oz: The Great and Powerful which hits theaters on March 8th. In case you've read the two-part Iron Man 3 prelude comic series by Marvel Comics, you know that it's primary purpose was to explain the absence of James Rhodey Rhodes AKA War Machine during the events of The Avengers, which saw Earth's Mightiest assembly fend off an alien invasion in the heart of Manhattan. The two issues are considered canon material by Marvel Studios and serve to bridge the story gap for Cheadle's character in between Iron Man 2 & 3. (
SPOILER ALERT!
) It's conclusion did more than that: Marvel's Iron Man 3 Prelude – part 2 has two ending pages – one's an epilogue page of sorts teasing the introduction of the Mandarin in the actual Iron Man 3 movie, and the other features Stark in the R&D level of his mansion with Rhodey beside him as a bunch of Mark VII suits emerge from the floor. Stark says:
"Iron Man's not enough. Not even with a War Machine watching his back. For what's coming, we're gonna need an Iron Legion."
This partly confirms the rumor that there are dozens of armors (between VII and XLVII) that Stark will control in Iron Man 3, mixing and matching components and weapons systems as some of the toy lines suggest. With the Extremis virus, Stark not only gains the ability to interface with his armor and other tech around him, but of a set of suits he builds. This could explain some of the scenes in the trailer where we see the new golden armor on top of him and at one point scaring Pepper Potts while they're sleeping. In two weeks fans may have a chance to see the Iron Legion in action. The new trailer was officially classified PG last week with a run-length of 2:25. According to sources of
Bleeding Cool
who've seen the new trailer, it features the following:
1) U.S. President declares war on The Ten Rings and Mandarin 2) Multiple shots of The Mandarin, threatening Tony Stark 3) Stark upset, tells Mandarin it's personal and that he's coming for him 4) Stark and Rhodey flying together into battle, along with the Iron Legion 5) There are "dozens" of Iron Man suits flying with them and Stark refers to them as "his boys" 6) The additional armors all look different (more evidence on those rumors of mixing and matching), many with never-before-seen designs 7) There's a final shot of a large armor suit bashing through a wall and although unconfirmed, it might be the Hulkbuster or some variation of it
In addition to leaked concept art and toy images fueling the rumors about Tony Stark flying to space and meeting the Guardians of the Galaxy in the post-credits sequence of the film,
another piece of art we recently uncovered
hinted at a new variation of what could be the Hulkbuster armor, or at least some massive, special armor Stark could wear, if it is in fact, art for the film. Iron Man 3 is directed by
Shane Black
based on his and Drew Pearce's screenplay, and also stars
Jon Favreau
,
Rebecca Hall
,
William Sadler
,
James Badge Dale
and the voice of
Paul Bettany
. It is scheduled for May 3rd, 2013 release.
UPDATE
: I've just come across another image that 'leaked' from the art department, possibly showcasing the armor seen in the final battle with Mandarin Lego set. Check it out, and if you are subject-savvy, tell us in comments which armor do you think this is: