Movie Posters
Two New Deathly Hallows Part 2 Character Posters: Neville Longbottom and Draco Malfoy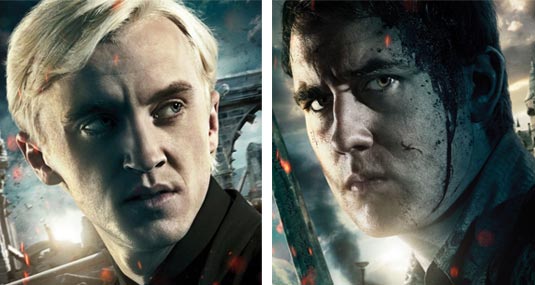 Following posters from Harry Potter, Hermoine Granger, Ron Weasley, and Voldemort Warner Brothers Pictures has revealed two new posters for Neville Longbottom and Draco Malfoy. Hit the jump to read film's synopsis and check out the posters.
"Harry Potter and the Deathly Hallows – Part 2," is the final adventure in the Harry Potter film series. The much-anticipated motion picture event is the second of two full-length parts. In the epic finale, the battle between the good and evil forces of the wizarding world escalates into an all-out war. The stakes have never been higher and no one is safe. But it is Harry Potter who may be called upon to make the ultimate sacrifice as he draws closer to the climactic showdown with Lord Voldemort. It all ends here.
Harry Potter and the Deathly Hallows Part 2, whose stars include Daniel Radcliffe, Emma Watson, Rupert Grint, Ralph Fiennes, Matthew Lewis and Alan Rickman, opens in 2D, 3D, and IMAX 3D theaters on July 15. David Yates directs.
Follow FilmoFilia on Twitter and FilmoFilia on Facebook for the latest news and buzz.

Draco Malfoy, Harry Potter and the Deathly Hallows : Part 2 Poster

Neville Longbottom, Harry Potter and the Deathly Hallows : Part 2 Poster