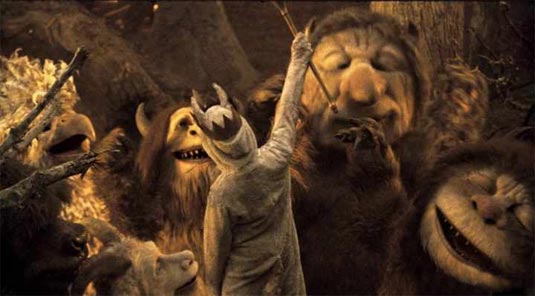 Warner Bros has released two brand new featurettes for the upcoming adventure film Where The Wild Things Are.
Adapted from a children book of the same name by Maurice Sendak, "Where The Wild Things Are" revolves around imaginary adventures of a young boy named Max. Being sent to his room without supper, the disobedient little boy creates a forest inhabited by many large imaginary monsters, who crown him their ruler. Befriending a large monster named Carol, he soon learns the meaning of love.
The film, directed by Spike Jonze (Being John Malkovich, Adaptation), starring Forest Whitaker (Vantage Point, The Last King of Scotland, Street Kings), Paul Dano (Taking Woodstock, There Will Be Blood, Little Miss Sunshine), Catherine Keener ("Synecdoche, New York", Hamlet 2, Capote) and James Gandolfini (The Sopranos, 8mm).
"Where The Wild Things Are" opens to theaters October 16th, 2009.
Where The Wild Things Are featurette #1 (6′ 43″)
[flv]http://content3.catalog.video.msn.com/e2/ft/share0/13ff/0/Msn_Manual_WhereTheWildThingsAre_WebPiece_HD.flv[/flv]
Where The Wild Things Are featurette #2 (5′ 21″)
[flv]http://www.kinogallery.com/trailers/W/Where-Wild-Things-Are-about4.flv[/flv]