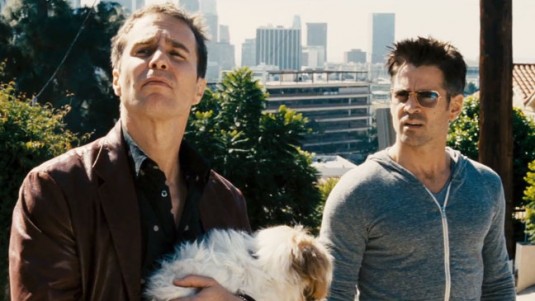 And you think you've got problems!
Check these new TV spots for the upcoming dark comedy
Seven Psychopaths
, which is set to open next month. One thing is for sure –
Martin McDonagh
's movie definitely looks promising. You're already familiar with the story and the great cast which includes
Colin Farrell
as a struggling screenwriter who becomes entangled in the Los Angeles criminal underworld. All that, because his psycho-friends, played by
Christopher Walken
and
Sam Rockwell
kidnap a gangster's beloved Shih Tzu. Weird situation, but fair enough when
Woody Harrelson
stars as that gangster, and that's exactly what you're going to see in this little preview of the movie which is set to open on October 12th, 2012.
Seven Psychopaths
also stars Abbie Cornish, Tom Waits, Olga Kurylenko and Zeljko Ivanek. So, let me ask you, do you have delusions of grandeur? Are you irrational and impulsive? Have some problems with authority? I knew you're a psycho!
TV Spot #1
TV Spot #2