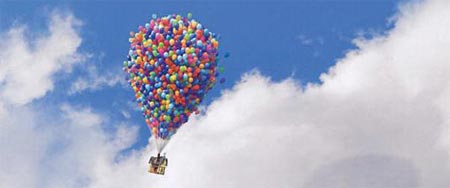 Walt Disney Pictures
has released the teaser poster for their upcoming 3D flick "
UP
."
Carl Fredricksen spent his entire life dreaming of exploring the globe and experiencing life to its fullest. But at age 78, life seems to have passed him by, until a twist of fate (and a persistent 8-year old Wilderness Explorer named Russell) gives him a new lease on life. "Up" takes audiences on a thrilling journey where the unlikely pair encounter wild terrain, unexpected villains and jungle creatures.
Pixar's "Up" is directed by
Pete Docter
(Monsters, Inc) and co-directed and written by
Bob Peterson
, who wrote "Finding Nemo" previously. The voices are provided by
Ed Asner, Christopher Plummer, John Ratzenberger
and
Jordan Nagai
. The movie opens on May 29th 2009. and the extended trailer will either be attached with "Bolt" in November, or next week's "High School Musical 3".