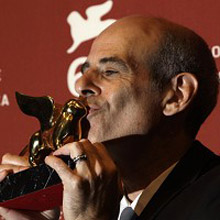 Venice Film Festival's jury announced the movie "Lebanon" was the winner of the Golden Lion on the last day of the 11-day screening of films from around the world.
"Lebanon," tells the story of Israeli paratroopers searching a hostile town. The movie is a look at war from inside a military tank by Israeli helmer Samuel Maoz, based on his personal experience as a young soldier during his country's 1982 invasion of Lebanon.
"I dedicate this award to all those thousands of people all over the world who came back from the war, like me, safe and sound. Apparently they are fine. They walk, get married, have children. But inside them, the memories will remain stuck in their souls," said Maoz at the award ceremony.
The Silver Lion for best director went to New York-based Iranian visual artist Shirin Neshat for her first feature "Women Without Men," an Iranian film about women and repression.
Neshat launched an appeal to the Iranian government to "give the people of Iran what they should have: basic human rights, freedom, democracy."
"Soul Kitchen," set amid the hip and grungy multi-ethnic set in his native Hamburg, by German-Turkish director Fatih Akin, won the Special Jury Prize.
Colin Firth took the best actor award for his role in Tom Ford's "A Single Man" as a gay college professor grieving for his dead lover his. Fashion designer Tom Ford made his director's debut with the movie.
Russian actress Kseniya Rappoport, starring in the Italian Giuseppe Capotondi's film "The Double Hour" ("La Doppia Ora") won best actress honours.
Todd Solondz's dark comedy "Life During Wartime" won for best screenplay. This is Solondz's quasi-sequel to "Happiness."
The Marcello Mastroianni prize for best young performer went to Italo actress Jasmine Trinca for her role as a young Catholic girl who becomes ideologically and sentimentally entangled during the 1968 protest movement in Michele Placido's "The Big Dream."
The $100,000 Luigi De Laurentiis Lion of the Future award for best first work went to 22-year-old helmer Pepe Diokno's "Enkwentro," about gangs and vigilante squads clashing in The Philippines. Literally translated as "The Encounter," the film tells the dark story of gangs in Manila and how two brothers encountered each other from warring sides. The movie also won in Venice Horizons.
Check out the list of 66th Venice Film Festival winners:
Golden Lion for best film: Lebanon by Samuel MAOZ (Israel, France, Germany)
Silver Lion for best director: Shirin NESHAT for the film Zanan Bedone Mardan (Women Without Men) (Germany, Austria, France)
Special Jury Prize: Soul Kitchen by Fatih AKIN (Germany)
Coppa Volpi for Best Actor: Colin FIRTH in the film A Single Man by Tom FORD (USA)
Coppa Volpi for Best Actress: Ksenia RAPPOPORT in the film La doppia ora  by Giuseppe CAPOTONDI (Italy)
"Marcello Mastroianni" Award for Best New Young Actor or Actress: Jasmine TRINCAin the film Il grande sogno by Michele
PLACIDO (Italy)
"Osella" for Best Technical Contribution: Sylvie OLIVÉ for the film Mr. Nobody  by Jaco VAN DORMAEL (France)
"Osella" for Best Screenplay: Todd SOLONDZ for the film Life during Wartime by Todd SOLONDZ (USA)
Orizzonti Prize to Engkwentro by Pepe Diokno (Philippines)
Orizzonti Prize for Best documentary to 1428 by DU Haibin (China)
Special Mention to Aadmi ki aurat aur anya kahaniya (The Man's Woman and Other Stories) by Amit Dutta (India)
Controcampo Italiano
Controcampo Italiano Prize to: Cosmonauta by Susanna NICCHIARELLI (Italy)
Kodak will offer to the awarded director 40,000 euros in negative film stock – 35 or 16mm, chosen by the winner – to shoot a new
feature film.
– Special Mention: Negli occhi by Daniele ANZELLOTTI and Francesco DEL GROSSO (Italy)
Corto Cortissimo  (Prizes awarded on 10th September 2009)
– Corto Cortissimo Lion for Best Short Film to Eersgeborene (First Born) by Etienne Kallos (South Africa, USA)
– Venice Nomination to the European Film Awards 2009 to Sinner by Meni Philip (Israel)
– Special Mention to Felicità by Salomé Aleksi (Georgia)
"Luigi De Laurentiis" Award for a Debut Film
– Lion of the Future – "Luigi De Laurentiis" Venice Award for a Debut Film to Engkwentro by Pepe DIOKNO (Philippines)
– ORIZZONTI as well as a prize of 100,000 USD, donated by Filmauro, to be divided equally between director and producer
Persol 3-D Award for the Best 3-D Stereoscopic Film of the Year  (Prize awarded on 11th September 2009)
– Persol 3-D Award: The Hole  by Joe Dante (USA)