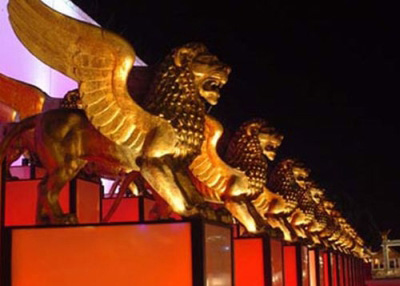 UPDATE: Check out the list of Venice Film Festival 2010 Winners
Are you guys ready for the oldest film festival in the world? Yeah, sure you are! Who's crazy enough to miss all that glamour, great movies, and well-known faces? Guess nobody!
This year's Venice Film Festival runs from September 1- 11th and some great titles will compete for Leone d'Oro, or if you prefer Golden Lion, indeed!
Just in case you don't trust us, check out a list of all the films playing in competition:
IN COMPETITION
Black Swan, Opening Night Film (dir. Darren Aronofsky – U.S.) Natalie Portman, Mila Kunis, Vincent Cassel, Barbara Hershey, Winona Ryder
La Pecora Nera, (dir. Ascanio Celestini – Italy) Ascanio Celestini, Giorgio Tirabassi, Maya Sansa
Somewhere, (dir. Sofia Coppola – U.S.) Stephen Dorff, Elle Fanning, Benicio Del Toro, Michelle Monaghan, Laura Chiatti, Simona Ventura
Happy Few, (dir. Antony Cordier – France) Marina Fois, Elodie Bouchez, Roschdy Zem, Nicolas Duvauchelle
Essential Killing, (dir. Jerzy Skolimowski – Poland, Norway, Hungary, Ireland) Vincent Gallo, Emmanuelle Seigner
The Solitude of Prime Numbers, (dir. Saverio Costanzo – Italy, Germany, France) Alba Rohrwacher, Luca Marinelli, Filippo Timi, Isabella Rossellini, Maurizio Donadoni
Silent Souls, (dir. Aleksei Fedorchenko – Russia) Igor Sergeyev, Yuriy Tsurilo, Yuliya Aug, Victor Sukhorukov
Promises Written in Water, (dir. Vincent Gallo – U.S.) Vincent Gallo, Delfine Bafort, Sage Stallone, Lisa Love
Road to Nowhere, (dir. Monte Hellman – U.S.) Shannyn Sossamon, Dominique Swain, John Diehl, Fabio Testi
Balada Triste de Trompeta, (dir. Alex de la Iglesia – Spain, France) Carmen Maura, Carolina Bang, Santiago Segura, Antonio de la Torre, Fernando Guillen-Cuervo
Venus Noir, (dir. Abdellatif Kechiche – France) Yahima Torres, Olivier Gourmet, André Jacobs
Post Mortem, (dir. Pablo Larrain – Chile, Mexico, Germany) Alfredo Castro, Antonia Zegers
Barney's Version, (dir. Richard J. Lewis – Canada, Italy) Dustin Hoffman, Paul Giamatti, Rosamund Pike, Minnie Driver
We Believed, (dir. Mario Martone – Italy, France) Luigi Lo Cascio, Valerio Binasco, Toni Servillo, Luca Zingaretti, Michele Riondino, Francesca Inaudi, Anna Bonaiuto
La Passione, (dir. Carlo Mazzacurati – Italy) Silvio Orlando, Giuseppe Battiston, Corrado Guzzanti, Cristiana Capotondi, Stefania Sandrelli, Kasia Smutniak
13 Assassins, (dir. Takashi Miike – Japan) Kôji Yakusho, Takayuki Yamada, Yusuke Iseya, Goro Inagaki
Potiche, (dir. Francois Ozon – France) Catherine Deneuve, Gérard Depardieu, Fabrice Luchini, Karin Viard, Judith Godrèche, Jérémie Régnier
Meek's Cutoff, (dir. Kelly Reichardt – U.S.) Michelle Williams, Bruce Greenwood, Will Patton, Zoe Kazan, Paul Dano, Shirley Henderson
Miral, (dir. Julian Schnabel – U.S., France, Italy, Israel) Freida Pinto, Hiam Abbass, Willem Dafoe, Yasmine Al Masri, Vanessa Redgrave
Norwegian Wood, (dir. Tran Anh Hung – Japan) Kenichi Matsuyama, Rinko Kikuchi, Kiko Mizuhara, Kengo Kora, Reika Kirishima
Attenberg, (dir. Athina Rachel Tsangari – Greece) Ariane Labed, Vangelis Mourikis, Evangelia Randou, Yorgos Lanthimos
Detective Dee and the Mystery of Phantom Flame, (dir. Tsui Hark – China) Andy Lau, Carina Lau, Li Bingbing, Tony Leung, Ka Fai
Three, (dir. Tom Tykwer – Germany) Sophie Rois, Sebastian Schipper, Devid Striesow
You can read more about movies Out of Competition and Venice Film Festival 2010