And finally it started! The
67th Venice Film Festival
, one of the most prestigious, and, by the way, the oldest film festival in the world, kicked off tonight at 7:00 p.m. in the Palazzo del Cinema featuring impressive Opening ceremony, hosted by the Italian actress
Isabella Ragonese
.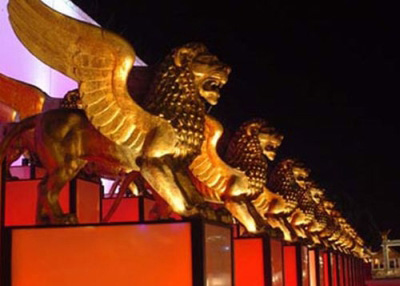 Black Swan
made its world premiere as the opening film, bringing the American director
Darren Aronofsky
back to the Lido, where he won the top Golden Lion prize with
The Wrestler
(2008). Of course, we already have some interesting reviews to share with you, for example this one (that comes from
Variety
): "A wicked, sexy and ultimately devastating study of a young dancer's all-consuming ambition, "Black Swan" serves as a fascinating complement to Darren Aronofsky's "The Wrestler," trading the grungy world of a broken-down fighter for the more upscale but no less brutal sphere of professional ballet." Let us remind you that the movie stars
Natalie Portman, Mila Kunis, Vincent Cassel, Barbara Hershey
and
Winona Ryder
and is In Competition. Black Swan premiered on the big screen at the Lido's glitzy Casino, the first billing in a rare opening night triple-header along with
Andrew Lau
's
Legend of the Fist: The Return of Chen Zhen
. On the other hand, another movie is the highlight of the festival,
Robert Rodriguez
's
Machete
with
Danny Trejo, Jessica Alba, Michelle Rodriguez, Robert De Niro, Steven Seagal, Don Johnson
and
Lindsay Lohan
. Rodriguez said the idea for Machete came from a fake trailer that he inserted in his and
Quentin Tarantino
's
Grindhouse
, released in 2007. "That trailer fed the audience's appetite and for years after that people asked whether I would make Machete into a feature. They kept coming and asking for it," Rodriguez said after a press screening of his film, which is being presented out of competition at the Venice festival. The line-up features numerous American films (six in competition alone) and Italian titles (four in competition, 24 overall) and some of Europe's top names: Abdellatif Kechiche, Tom Tykwer, Alex De La Iglesia… You can see the full list of all films playing
In Competition
right here on our site and can check
Out of Competition
line-up below. Many of the films at
Venice Film Festival 2010
have literary roots: Julie Taymor's Shakespearian
The Tempest
,
Norwegian Wood
by Tran Anh Hung, based on Haruki Murakami's cult youth novel,
The Solitude of Prime Numbers
by Saverio Costanzo, who wrote the script with Paolo Giordano, the author of the eponymous bestseller,
Barney's Version
, Richard J. Lewis' version of the book by Mordecai Richler. Then we have Ben Affleck's
The Town
, from Prince of Thieves by Chuck Hogan, Emidio Greco's
Notizie degli scavi
from Franco Lucentini's 1964 short story,
Michele Placido
's
Vallanzasca – Gli angeli del male
from the recent Carlo Bonini book and
We Believed
, which Mario Martone adapted from novel by Anna Banti. The Festival will also feature many historical films:
Miral
by Julian Schnabel (In Competition), the Spanish Civil War and Franco's dictatorship
A Sad Trumpet Ballad
(De la Iglesia) In Competition), the movie about Pinochet dictatorship
Post Mortem
(Pablo Larrain, Competition),
Potiche
about workers' battles in 1970s France (François Ozon, Competition),
Venus Noire
about slavery and 19th century European racism (Abdellatif Kechiche, Competition). The members of the international jury, headed by
Quentin Tarantino
will award the official prizes: Venezia 67 (President:
Quentin Tarantino
), Orizzonti (
Shirin Neshat
), Controcampo Italiano (
Valerio Mastandrea
), "Luigi De Laurentiis" Award for a debutfilm (
Fatih Akin
), and Persol 3D Award (
Shimizu Takashi
).
Out of Competition
Line up:
That Girl in Yellow Boots
, (India) Director: Anurag Kashyap; Cast: Kalki Koechlin, Naseeruddin Shah, Prashant Prakash
I'm Still Here: the Lost Year of Joaquin Phoenix
, (USA) Director: Casey Affleck; Cast: Joaquin Phoenix
Legend of the Fist: The Return of Chen Zhen
, (China/Hong Kong) Director: Andrew Lau; Cast: Donnie Yen, Shu Qi, Anthony Wong, Huang Bo
A Letter To Elia
(USA) Director: Martin Scorsese
Machete
, (USA) Director: Robert Rodriguez; Cast: Danny Trejo, Jessica Alba, Michelle Rodriguez, Robert De Niro, Steven Seagal, Don Johnson, Lindsay Lohan
Passione
, (Italy) Director: John Tuturro
Reign of Assassins
, (China, Taiwan, Hong Kong) Director: John Woo and Su Chao-Pin; Cast: Michelle Yeoh, Woo-sung Jung, Shawn Yue, Barbie Hsu
Showtime
, (China, Hong Kong) Director: Stanley Kwan; Cast: Carina Lau, Hu Jun, Tony Leung Ka-Fai, Huang Lei
Sorelle Mai
, (Italy) Director: Marco Bellocchio; Cast:Alba Rohrwacher, Donatella Finocchiaro, Pier Giorgio Bellocchio, Elena Bellocchio, Gianni Schicchi Gabrieli, Letizia Bellocchio, Maria Luisa Bellocchio, Alberto Bellocchio, Irene Baratta, Valentina Bardi, Silvia Ferretti, Giovanna Berretta, and Anna Bianchi
The Tempest
, (USA) Director: Julie Taymor; Cast: Helen Mirren, Djimon Hounsou, Russell Brand, Alan Cumming, David Strathairn
The Town
, (USA) Director: Ben Affleck; Cast: Ben Affleck, Jeremy Renner, Rebecca Hall, Jon Hamm, Blake Likely