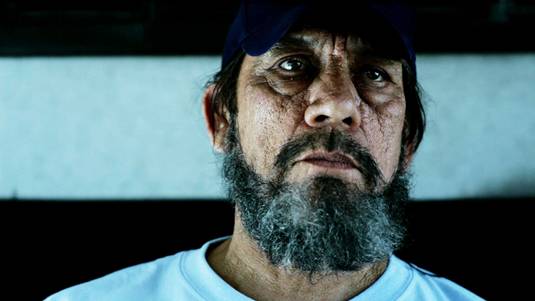 Have you guys seen infamous YouTube clip of Epic Beard Man?
You know, Alexander Bruso, an older white bearded who later came to be referred to as Epic Beard Man, and who said: 'I see tough guys like you and I slap the sh-t out of them,' and stuff like that. One angry white bearded dude who beat up a black dude on a bus in Oakland. The whole incident was videotaped and went viral online.
Never mind, an indie actioner, Bad Ass is based on that bus fight, but instead of a white actor, they got Danny Trejo.
Here's the official synopsis:
Decorated Vietnam hero Frank Vega returns home only to get shunned by society leaving him without a job or his high school sweetheart. It's not until forty years later when an incident on a commuter bus (where he protects an elderly black man from a pair of skin heads) makes him a local hero where he's suddenly celebrated once again. But his good fortune suddenly turns for the worse when his best friend Klondike is murdered and the police aren't doing anything about it.
Directed and co-written by filmmaker Craig Moss (Saving Ryan's Privates) the action film also stars Ron Perlman, Charles S. Dutton, Joyful Drake, Patrick Fabian, John Duffy, Winter Ave Zoli and Danny Woodburn.
Bad Ass opens in selected theaters on April 13th, 2012.
Check out a second trailer for Samuel Goldwyn Films below: