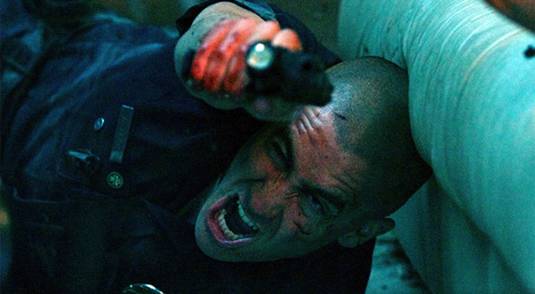 The first trailer for the rookie cop drama
End of Watch
is here, and it stars
Jake Gyllenhaal
and
Michael Peña
as beat cop partners who team up to take down a drug cartel in Los Angeles. It's not the story that leaves a lasting impression in this trailer; it's the camerawork – on video where the protagonists forget there's a camera there.
David Ayers
new film End of Watch looks to be doing just that as it looks like a found footage film – there are also times when the POV switches to first person. So, like I said, the film features Gyllenhaal and Peña patrolling the streets of South Central L.A. as a couple good cops, but after a high-profile bust against a big drug cartel, the officers themselves become targets. A 'cop-buddy-shoot-'em-up swoon' flick also focuses on both Gyllenhaal and Peña's families and the price they are forced to pay.
Anna Kendrick
plays Gyllenhaal's wife, while
America Ferrara
and Cody Horn play officers. End of Watch hits theaters starting September 21st, 2012, so get watching the trailer for yourself right now.
HD-Quality 1080p
[1920 px] − 75 Мb (QuickTime)
HD-Quality 720p
[1280 px] − 35 Мb (QuickTime)
HD-Quality 480p
[852 px] − 23 Мb (QuickTime)