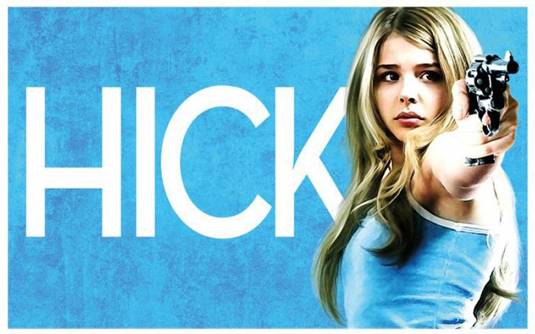 The red band trailer for the adaptation of
Andrea Portes
' novel,
Hick
is sure to grab your attention. A relentless rock-n-roll soundtrack filled with twangy guitars and words like INNOCENT, HONEST, BRUTAL, EMOTIONAL and CONTROVERSIAL are splashing across the screen in white letters… No doubt that Portes adaptation of her coming-of-age novel is one gritty tale about Luli (
Chloe Moretz
), a 13-year-old Nebraskan girl who, armed with her smarts and a pistol hitchhikes her way west after she runs away from her alcoholic and abusive parents. She's taken in by Glenda (
Blake Lively
), a hard-living cocaine-snorting grifter who takes Luli under her wing. Yes, there's also Eddie (
Redmayne
), an unstable rebel with questionable motives…
Derick Martini
's Hick made its official debut at the Toronto International Film Festival last fall, but arrives in theaters and on demand next month, on May 11th.
Juliette Lewis
,
Rory Culkin
and vet actor 
Alec Baldwin
also co-stars, so you can now check the red band trailer out.